Quilt No.484JC - Jean Cameron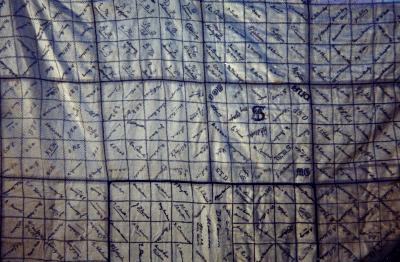 Description:
White cotton quilt with blue embroidery. There is a lattice grid embroidered with 30 squares one way and 24 the other and in each square there is an embroidered signature or initial. In one is "The Home Missions Fete 1923" and in the centre "D.A.Cameron, Moderator" the date 1921-22 and 24 signatures within a more heavily embroidered rectangle. There is no padding and the backing is white cotton.
2120 x 1680mm
History:
The Rev. D.A. Cameron was the grandfather of Jean Cameron's late husband and the quilt came from the Rev. Cameron's home. It was a fund raising quilt made probably for the Home Missions fete of 1923. It was made in Bairnsdale Victoria. It is not used and is stored in Jean Cameron's home.
Story:
The Rev. D.A.Cameron was the Moderator General of the Presbyterian church of Australasia early this century. He was a great friend of the Rev. John Flynn. He was in Bairnsdale in the 1890s and again in the 1920s and also spent time in Warrnambool and Kew.
"Path Among the Years" a history of the shire of Bairnsdale by John Adams lists some of the activities early this century of the Rev. Cameron:
1892: Leader of a farm settlement scheme (successful).
1892: With George Bearham started a private college, St. Andrew. There were financial problems and it closed.
1890s: With the Ladies Benevolent Society started an Old Australians Home.
1891 Opened a newly erected Presbyterian Church. This was completely renovated in the early 1920s and again opened by the Rev. Cameron. Eventually the church was moved.
The Rev. Cameron was born in the late 1860s and died in 1940.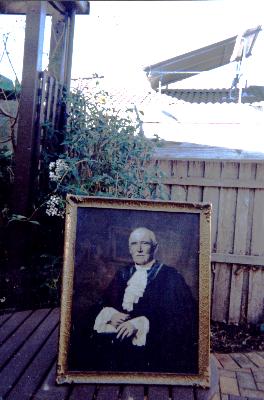 Related Quilts:

Wholecloth pram quilt with a top of pink cotton sateen, and the reverse is a more finely woven, ivory, fabric. All over quilting design as main feature, with stylised hearts, leaves and cross hatching. The padding is cotton batting. 870 x 660 mm.

Hand stitched, cotton, appliquéd, quilt in a flower pattern on a plain background. Colours are shades of green, apricot and browns. This quilt was known as a 'Bride's Quilt'. Padding is thought to be layers of white fabric raised almost like a wadding. The backing is cotton material. 2470 x 2020 mm.

Quilt of woollen rectangles, probably tailors' samples. Machine pieced. The backing is floral cotton similar to curtain material.The backing has a french seam down the centre back and is folded over to the front to form a binding. There is no padding.
1440 x 1260

Wholecloth quilt made of royal blue satin, squares around a central panel. Seam lines are covered with a faggoting stitch. All names are embroidered in satin stitch, the central motif is hand painted. The border is quilted with a repeat scroll ing pattern in hellow thread, and edges are trimmed with a fringe of small pom-poms in burgundy, gold, blue and yellow, the colours mixed in each pom-pom. Quilt is backed with yellow satin cotton. Centre has embroidered: "Lancefield/ Presbyterian/ Sale of Gifts/ February, 1896'.
1880 x 1330mm

Wholecloth quilt of golden brown cotton satin, the reverse side of pink cotton satin. Central quilting pattern of interlaced curves, within 3 rows of parallel stitching, then a border pattern of an interlaced knot design, the edge finished with 2 rows of parallel quilting. Filling of cotton. 2010 x 1920 mm.
2010 x 1920mm

Irregularly patched from a variety of cotton dress prints, checks, plains and mattress ticking. 1920s and 30s fabrics. Both top and back are similar. Hessian padding. Originally two single quilts, now stitched together.
1850 x 1720mm