Quilt No.417IP - Irene Pascoe
Description:
Utilitarian cot quilt. The padding is layered reused woollen materials, parts of old blankets, part overcoats. These are stitched together with string and knitting wools The top and backing are printed cotton. There is a frill all around and buttons have been used to anchor the padding layers to the outside cover.
1169 x 915mm
History:
The cot quilt was made by Irene Pascoe (born Edmondstone) in 1959 for her son. It is still owned by Irene Pascoe. It is still used as a foot warmer in winter.
Story:
" Money was tight. It was cold and I made up something to keep him (my son) warm. My husband (first) was a shearer and seasonal worker and it was just after the shearers' strike. He (my husband) didn't like work much.
I first heard about and saw 'Wagga' quilts while I was staying with my grandmother. I just copied her. Grandmother's saying was 'wilful waste'." [Irene Pascoe 17.9.97]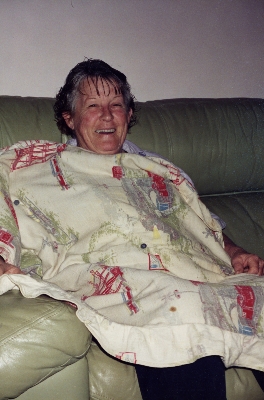 Related Quilts:

Wholecloth pram quilt with a top of pink cotton sateen, and the reverse is a more finely woven, ivory, fabric. All over quilting design as main feature, with stylised hearts, leaves and cross hatching. The padding is cotton batting. 870 x 660 mm.

Hand stitched, cotton, appliquéd, quilt in a flower pattern on a plain background. Colours are shades of green, apricot and browns. This quilt was known as a 'Bride's Quilt'. Padding is thought to be layers of white fabric raised almost like a wadding. The backing is cotton material. 2470 x 2020 mm.

One side of this quilt is large pieces of check and striped material surrounding a small patterned supper cloth with a border of scrap pieces. The other side is small, floral, check, spotted, striped and plain cotton pieces surrounding a tablecloth. It is machine sewn and is not quilted. The padding is an old woollen blanket.
1825 x 1625mm

Unfinished small quilt top of pale blue linen with squares of embroidery and silk patches appliqued and embroidered. The centre has embroidered coat of arms of the Baillie (or Bayley)family. Embroidered motifs are flowers, domestic items, anchor, butterfly, fan, basket, gardening implements. Total of 99 patches in silk, linen and cotton.
873 x 845mm

This utility quilt/eiderdown has a wholecloth top of faded floral cotton, a frill of the same material and a centre diamond of plain green cotton. The backing is plain green and the padding is kapok.
1753 x 1474mm

Wholecloth quilt covered with floral cretonne both sides, deep pink and yellow flowers on a cream background. The padding is hessian/jute type bags joined.
One of a pair but the other quilt is larger.
1800 x 900mm