Quilt No.486CB - Christine Barnes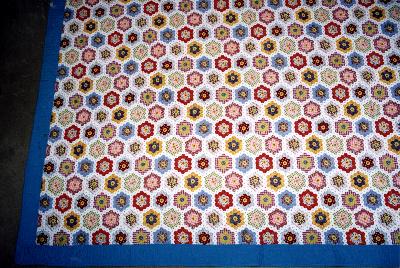 Description:
Cotton quilt with rosettes of hexagons. There is a centre hexagon with a surround of 6 hexagons in a contrasting pattern and then an outer row of 12 hexagons in a different pattern. Between each rosette is a single row of hexagons in a print common to the whole quilt. The materials are typical of the 60s period. There is a deep aqua border. It is machine quilted. The backing is cotton.
2515 x 1829mm
History:
Purchased by the owner in West Virginia in 1967. Said to have been made by an elderly lady in the 'backwoods'.
Story:
"Both quilts were bought when living in the USA in the 1960s. Until that period I had not heard about quilts. Many friends showed me their quilts which had been handed down for generations or were made specifically for the individual. The majority had the maker and the date sewn on the quilt, in some cases conspicuously in other cases unconspicuously."
[Christine Barnes 19.4.1999]
Related Quilts:

Cotton quilt, machine sewn and hand quilted. Pattern similar to Double Irish Chain. The background is white and the small squares mainly patterned in pinks, blues, lilacs and greens. The backing is plain white cotton and the padding, which is lumpy, could be some type of cotton.
2057 x 1220mm

Suffolk Puff quilt with puffs mainly in patterned cotton pieces saved from 60 years of household sewing. Puffs are formed into rosettes and the holes are on the top making a decorative feature. It is hand sewn.
2700 x 2400mm.

Quilt made with a rectangular centre panel of cotton fabric printed with red poppies and black flowers in a japanese style. The panel is surrounded by a wide black satin border. The backing is of black cotton, covering a previous backing of green floral cotton fabric. The padding is feathers.
1700 x 1370mm

Quilt based on 70mm block. Cottons and rayon's with some reused materials. Machine pieced, hand quilted. Backing is mid blue cotton brought over to the front and machined to form a binding. Padding is probably cotton.
2510 x 1850mm

Quilt with alternate red and white diamonds in cotton, with wide border of white cotton and a white cotton crochet edging. All diamond patches and edging were joined to white border decorated with feather stitch. White border edged with zig-zag white feather stitch. Centre rectangle of white has 4 red petals edged with white feather stitch and 4 red diamonds each embroidered in white clockwise: '1898', 'R', 'L', 'K'. Diamonds edged with feather stitch. There is no padding and the backing is white cotton.
2420 x 1740mm

Patchwork quilt of squares measuring between 190mm and 220mm machined together. Materials include chenille, wool and nylon. There is no padding. The backing is green gabardine
1350 x 148mm