Quilt No.486CB - Christine Barnes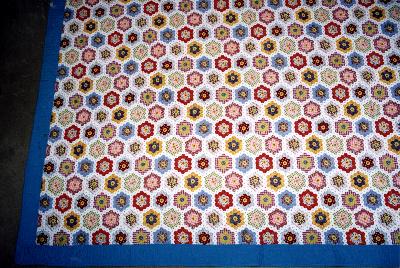 Description:
Cotton quilt with rosettes of hexagons. There is a centre hexagon with a surround of 6 hexagons in a contrasting pattern and then an outer row of 12 hexagons in a different pattern. Between each rosette is a single row of hexagons in a print common to the whole quilt. The materials are typical of the 60s period. There is a deep aqua border. It is machine quilted. The backing is cotton.
2515 x 1829mm
History:
Purchased by the owner in West Virginia in 1967. Said to have been made by an elderly lady in the 'backwoods'.
Story:
"Both quilts were bought when living in the USA in the 1960s. Until that period I had not heard about quilts. Many friends showed me their quilts which had been handed down for generations or were made specifically for the individual. The majority had the maker and the date sewn on the quilt, in some cases conspicuously in other cases unconspicuously."
[Christine Barnes 19.4.1999]
Related Quilts:

Patchwork quilt made from brightly coloured printed cotton fabrics in hexagon patches hand sewn together in rosettes, and stitched by machine onto a border of bright teal blue fabric. Fabric scraps for the patchwork were donated from friends. No padding. Backing is polished cotton curtain lining.
2312 x 1969mm

Patchwork quilt made for a child. All cotton with cotton padding. White blocks have embroidery depicting different nursery rhymes eg Mary, Mary, Quite Contrary ; Old Mother Goose. These blocks are separated by rectangular strips of teal cotton. The quilt is hand stitched and heavily quilted.
1677 x 1271mm

" Reversible patchwork quilt of woollen suiting/upholstery fabrics in khaki, greys, blues and browns. Both sides have different designs. The front of the quilt has 13 rows of 12 vertical rectangles flanked on either side by a column of 22 horizontal rectangles. The reverse has a more interesting and complex design of small and very large rectangles, squares and triangles; with khaki contrasting with the duller greys and blues. The patchwork layers are joined at the edges with machine stitching and the quilt is machine quilted along 3 horizontal lines following joins in the patchwork; therefore not being totally straight. These lines are more noticeable on the reverse. The reverse face has been on display at the NGA." [NGA] There is a cotton blanket used as padding. 2054 x 1451mm

Quilt has a centre panel of white velvet roses and green leaves with embroidered spider webs, on red velvet. Two side panels are in crazy patchwork in plain and patterned silks and velvets. All patches are edged with feather, herringbone or blanket stitch. Many patches are embroidered, including 'Minnie', 'Good Luck', birds, flowers, anchor, boat, fish, shell, spider web, crown,, 2 crossed flags, tennis racquets, Australian motifs including wattle. The centre panel has a row of ruched olive green ribbon each side and the whole quilt has a border of dark blue velvet. The padding is cotton wadding and the backing is cream cotton printed with red and pink chrysanthemums and green leaves.
2113 x 1995mm

Hand pieced cot quilt made from small rectangular shapes of a great variety of materials including cottons, silks, wools and velvets. The backing is cotton sateen in 3 colours and is brought to the front to form a border of pink, cream and yellow.
1170 x 920mm

Quilt top with English piecing in a star in polygon pattern. English and French cotton fabrics in a wide variety of patterns and plains constructed over papers with the tacking still in tact. Papers are mainly part envelopes some with stamps and post dated 1898. 2200 x 1800mm