Quilt No.486CB - Christine Barnes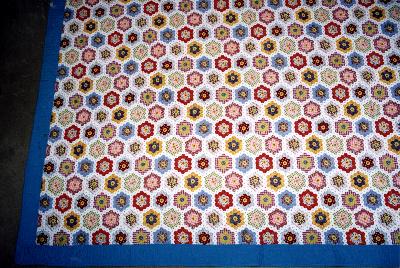 Description:
Cotton quilt with rosettes of hexagons. There is a centre hexagon with a surround of 6 hexagons in a contrasting pattern and then an outer row of 12 hexagons in a different pattern. Between each rosette is a single row of hexagons in a print common to the whole quilt. The materials are typical of the 60s period. There is a deep aqua border. It is machine quilted. The backing is cotton.
2515 x 1829mm
History:
Purchased by the owner in West Virginia in 1967. Said to have been made by an elderly lady in the 'backwoods'.
Story:
"Both quilts were bought when living in the USA in the 1960s. Until that period I had not heard about quilts. Many friends showed me their quilts which had been handed down for generations or were made specifically for the individual. The majority had the maker and the date sewn on the quilt, in some cases conspicuously in other cases unconspicuously."
[Christine Barnes 19.4.1999]
Related Quilts:

Cotton quilt with central frame and radiating borders mainly in squares in pinks and blues, printed materials and plain. The padding is cotton wool and the backing is off white cotton.
2040 x 1800mm

Patchwork quilt made of 1 inch hand paper pieced hexagonal patches (English technique), with plain and floral patterned blue fabrics in clusters at regular intervals throughout the taupe coloured patches. Centre of quilt has a cluster or 'flower' of 4 rings of patches, the centre group embroidered in blue satin stitch: 'MW 1938'. Border consists of 3 rows of medium, light and dark blue hexagons. No padding. Backing is of blue cotton sateen.
2185 x 1372mm

Pieced repeat block in 'Dresden Plate' pattern in a variety of fabrics with pink and pale blue predominating. Scalloped outer edge. Machine pieced and hand quilted, with echo quilting of four petals between the 'Dresden Plates'. The padding is polyester, and the backing is white calico. 2600 x 1630 mm.

Frame quilt in cotton with cotton backing. Centre square of floral chintz surrounded by 8 smaller squares with floral and probably Egyptian motifs. 4 surrounding frames of plain and patterned cotton in squares, diamonds and strips. Hand stitched and hand quilted. Has been used as a curtain and has metal rings attached to one edge.
3759 x 2286mm

Patchwork quilt, all cotton including cotton filling. Pink and white. Large plain pink blocks with white pieced blocks in between in arrow type pattern based on rectangles. Hand sewn and hand quilted
1931 x 1728mm

Patchwork cot quilt top made from cotton hexagon patches, featuring a centre rosette with 7 rows of patches around it forming an elongated shape, with rosettes and patches randomly placed on the sides. Quilt has a border of triangles pieced to form squares. Cotton prints with over 50 different patterns. Colours are faded, with red and brown (may be faded green) and mostly pastels. Hand sewn using whip stitch. No padding or backing.
990 x 825mm