Quilt No.496HB - Helen Blandford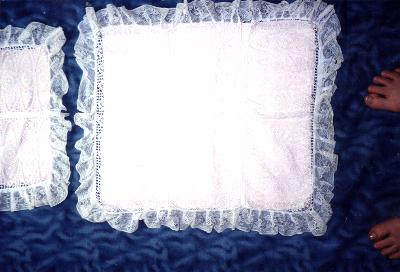 Description:
Bassinet quilt. Pink satin top and backing overlaid with lace. Machine and hand sewn. The padding is possibly a nappy. It is part of a set that includes a pillow cover.
585 x 509mm
History:
Made by the mother of the owner (died 1998) for her first child Helen (Blandford) in 1944. Now owned by Helen. It is not used and is stored in a blanket chest.
Story:
"My mother was not a sewer so this was a real labour of love. I wish I had asked her more about it and where she got the particularly fine lace from." [Helen Blandford 8.5.1999]
Related Quilts:

Wholecloth pram quilt with a top of pink cotton sateen, and the reverse is a more finely woven, ivory, fabric. All over quilting design as main feature, with stylised hearts, leaves and cross hatching. The padding is cotton batting. 870 x 660 mm.

Hand stitched, cotton, appliquéd, quilt in a flower pattern on a plain background. Colours are shades of green, apricot and browns. This quilt was known as a 'Bride's Quilt'. Padding is thought to be layers of white fabric raised almost like a wadding. The backing is cotton material. 2470 x 2020 mm.

Rose pink satin wholecloth quilt with lighter pink cotton backing. Hand quilting forms large diamond pattern in the centre with a border of parallel lines.
2000 x 1800mm

Wholecloth quilt made from deep cherry red satin with a backing of red cotton. The padding is cotton wadding. It is hand quilted and the pattern is a central motif of a large diamond with diamond fill. Each corner has a pattern of curved lines and the quilt border is created by four parallel lines.
2070 x 2000mm

Wholecloth quilt with top of red sateen. Hnad quilted with a large central rosette in a 'gothic' border then square on point border and outer border with rosettes in rectangular corner panel. The backing is cotton sateen with printed floral bouquets. The thick padding is cotton. This type of quilt is called 'cuttunina' in the Sicilian dialect which means 'has cotton inside'.
2360 x 2310mm

Wholecloth quilt in satin, crimson one side and yellow on the other. Hand quilted in an all over pattern. The padding is wool.
2300 x 1700mm