Quilt No.581LC - Lorna Calder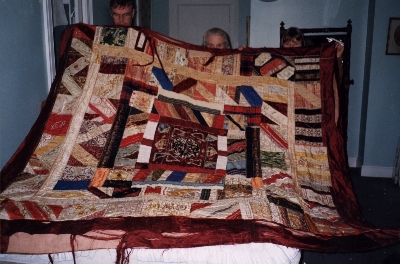 Description:
Patchwork quilt of multi coloured silks and brocades. Crazy patchwork borders, mainly rectangular fabrics pieced together in diagonal patterns, radiating from a central frame embroidered with flowers. Many pieces are extensively embroidered in a great variety of stitches and motifs; butterflies, sunflowers, cats, daffodils, crown, pawn broker's symbol, 'money to lend', 'good night', the initials of family members and 'mater 1890'. The quilt has a deep border of maroon sateen. There is no padding visible but it is possibly a blanket. The backing is green/gold silk with a self stripe with...
History:
The quilt was made by Jane Calder (born Bennett) in Melbourne probably just before the turn of the century. Jane was known as 'Mater' in the family. It descended through the maker's family and came to Lorna Calder on the death of her mother-in-law in 1948. The quilt was found in an old tin trunk in the cellar of her Melbourne home in Grey Street, St. Kilda. In 1980 Mrs. Calder had the quilt repaired for her daughter Morella's return to Australia and it was used in her Balmain home. Additional initials relating to Mrs. Calder's family had been added by the Austrian needlewoman, Soula, who did the repairs. The quilt came back into Lorna Calder's hands on the death of her daughter. It is not used.
Story:
The Calder family were from Edinburgh. Jane Bennett married William Henderson Calder in about 1860 and they went to New Zealand. She had nine children in New Zealand and they returned to Scotland in 1875. After a year or two the family came to Australia and settled in St. Kilda in a large house that still stands in Grey Street. Unfortunately much of the information about the quilt died with Lorna Calder's mother-in-law.
[Based on informal interview with Lorna Calder by Kylie Winkworth 15.9.99]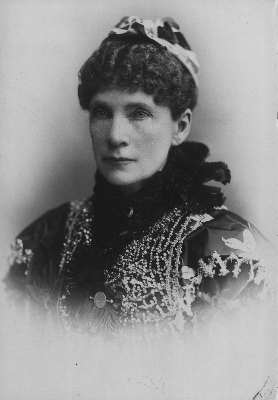 Related Quilts:

Quilt made of 26 x 13 rectangles of woollen men's suiting samples. Each rectangle is about 70 x 130 mm. Wide variety of patterns, mainly stripes, and colous. The padding is part of a worn cream blanket and joined pieces of woollen clothing. The backing is a well worn piece of brushed cotton. Machine made.
11900 x 1870 mm

Cotton quilt, checks, plains and patterns. Machine construction. Rectangles stitched together in strips and then strips joined. The backing is a cotton print. There is no padding and no quilting.
2420 x 1220

Old jute wool pack opened out and joined together selvedge to selvedge. Ends bound with recycled curtain material.
1550 x 1321mm

Frame quilt with the centre frame featuring stars. These are English pieced and then appliqued on to the background using straight stitch on the machine. Borders are squares, rectangles and truangles. Mainly cottons. There is no padding. The backing is an old white bedspread similar to a Marcella.
1900 x 1930mm

Quilt made of tailors' swatches, machine constructed around a central frame that is mainly mid brown pieces. This is surrounded by rectangles of mainly charcoal greys and the outer border is navy blues. The backing is a heavy cotton with random green and cream and grey stripes.
1651 x 1220mm

Unfinished cotton frame quilt. The centre square is 4 triangles and this is surrounded by a border of smaller triangles. Most of the other borders are of triangles in a wide variety of materials, printed and plain.
2286 x 1829mm