Quilt No.529DC - Diana Cameron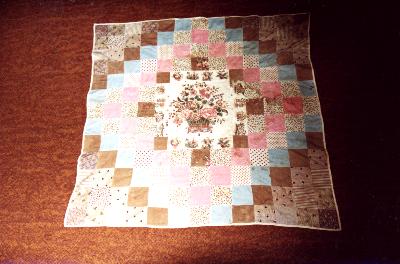 Description:
Square quilt top. Floral centre piece with borders of squares set in a diamond pattern. Squares are in plain colours and patterns. There is no padding or backing.
920 x 920mm
History:
The maker and country of origin are unknown. The present owner, Diana Cameron, is well known in Launceston for her knowledge of textiles and as a quilter. She has been quilting since the 1930s, her mother having taught her 'English piecing'.
Related Quilts:

This quilt consists of many blocks of different colours with etchings and verse from the bible machine appliqued on to a red backing material. It is a kit quilt.
2580 x 24100mm

Patchwork cradle quilt of pieced repeat blocks. All cotton including cotton filling. Pattern is in faded greens and pinks,"4 pointed star" in circles. There are 20 blocks.
991 x 788mm

Patchwork quilt has pieced blocks in the 'Ohio star' pattern in red print and white cotton, alternating with plain white blocks. Quilt has a 9cm frill in red and grey geometric print cotton, machine stitched around the edge. Quilt appears to have some hand quilting. No padding. Backing is white cotton.
2210 x 2060mm

The top is machine pieced patches of used clothing. The backing is large pieces of dress materials and either end patches similar to the top. The padding is a chaff bag or similar with patches of worn, matted children's jumpers sewn directly on to it.
1400 x 1150mm

The top of this utility quilt is machine pieced rectangles of woollen materials joined in strips. It includes corduroys and velveteens and woollen tartan. The backing is an Indian cotton blanket.
1651 x 1271mm

Reused parts of hand knitted woollen jumpers patched together. Wide crocheted edge from wool unravelled from jumpers retrieved from the tip.
1905 x 1525mm