Quilt No.529DC - Diana Cameron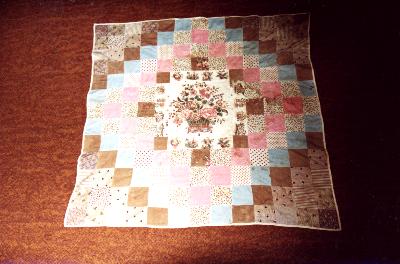 Description:
Square quilt top. Floral centre piece with borders of squares set in a diamond pattern. Squares are in plain colours and patterns. There is no padding or backing.
920 x 920mm
History:
The maker and country of origin are unknown. The present owner, Diana Cameron, is well known in Launceston for her knowledge of textiles and as a quilter. She has been quilting since the 1930s, her mother having taught her 'English piecing'.
Related Quilts:

Patchwork quilt of squares measuring between 190mm and 220mm machined together. Materials include chenille, wool and nylon. There is no padding. The backing is green gabardine
1350 x 148mm

The centre of the quilt is a small blue 6 pointed star surrounded by a larger blue star. Blue stars also form a border to the quilt. The background material is a multicoloured small floral pattern on white cotton. The quilt is all hand worked over templates. The padding is cotton and the backing is polyester sheeting with a border of stars.
2650 x 2475 mm

Machine stitched quilt made from tailors' samples cut into squares. The colours are mainly greys, browns and fawns. There is no padding and the backing is a grey herringbone heavy woollen material with a white fleck. This is folded back to the front to make a 75mm border and finished with a dark grey braid where it meets the patchwork top. 1525 x 1225mm

Large hexagon rosettes in a variety of plain colours. 6 form a flower and each hexagon has a contrasting colour for the centre. Machined smaller hexagons give a ruffled effect. Colours of flowers include teal, burnt orange, pink, lime and mauve. The material is nylon and the backing is a single piece of pink bubble nylon. The padding is a single piece of calico.
2050 x 1530mm

Hand pieced hexagon quilt in pattern known as 'Grandmother's Flower Garden". 12 hexagons, in patterned cottons, form the outer border of each flower with an inner border of 6 matching plain coloured hexagons and all flowers have a yellow hexagon centre. There is no padding, a cotton backing and it is hand quilted.
2400 x 1780mm.

Frame quilt with central square of fabric around which the borders or frames have been added in strips. The fabrics are mostly floral, a heavy weight similar to damask or curtaining. The colours are mainly beige, brown, green and red. The original backing was a red paisly design. A second backing, of red, brown and yellow leaves on white (possibly dating from 1930s), has been added at a later date. Quilt is bound with brown fabric.
2200 x 2000mm