Quilt No.529DC - Diana Cameron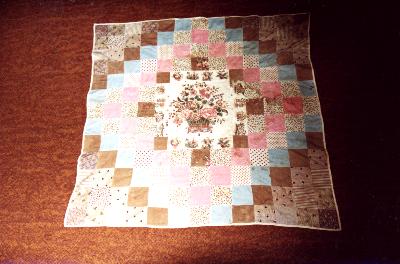 Description:
Square quilt top. Floral centre piece with borders of squares set in a diamond pattern. Squares are in plain colours and patterns. There is no padding or backing.
920 x 920mm
History:
The maker and country of origin are unknown. The present owner, Diana Cameron, is well known in Launceston for her knowledge of textiles and as a quilter. She has been quilting since the 1930s, her mother having taught her 'English piecing'.
Related Quilts:

Quilt is made of wool tailors' samples, each measuring 6 x 3 1/2 inches. The colours are predominantly navy and grey. Most pieces are striped but some more distinctly than others. Both sides are mad eof smaples, one side being mainly grey and the other almost exclusively navy. There doesn't seem to be another layer of material as padding. There is no added decoration. Made on a treadle sewing machine.
1703 x 1423mm

Cotton quilt made in the USA. The pattern is 'Nine Patch'. The quilt is machine pieced and hand quilted. The backing is cotton material possibly shirting. The padding is cotton.
1702 x 1702mm

Patchwork quilt made of 1 inch hand paper pieced hexagonal patches (English technique), with plain and floral patterned blue fabrics in clusters at regular intervals throughout the taupe coloured patches. Centre of quilt has a cluster or 'flower' of 4 rings of patches, the centre group embroidered in blue satin stitch: 'MW 1938'. Border consists of 3 rows of medium, light and dark blue hexagons. No padding. Backing is of blue cotton sateen.
2185 x 1372mm

Double bed patchwork coverlet of pieced blocks in a pinwheel or dresden plate pattern of prints on a cream ground, each block with a 1 3/4" border or sash. Each pinwheel has 10 pieces, and the quilt is constructed 8 blocks by 6. Cotton fabrics are in florals, checks and stripes, in blues, greens browns, pinks, purple. The quilt was in poor repair and has been reduced in size. Conservation work has been done by the State Conservation Centre.
Backing or filling unknown.

Patchwork quilt in crazy pattern, with pieces of silks, corded silks and velvets in prints, plaids and plains. Nearly all pieces are edged with embroidery, and many pieces have embroidered names and motifs. There are a variety of embroidery stitches. The backing is of slub cotton in a plaid pattern in yellow, grey, red and white. No padding. Quilt has a gathered edging of dark red organdy and silk. Names and dates embroidered are: Bert, Milly, Toots, Verdi, Ida, and 1893, 1895, 1894.
1550 x 1420mm

Log cabin quilt consisting of 36 blocks each 200mm square. Light and dark arrangement with a variety of small patterned cotton materials (floral, spotted, striped) and plains. The blocks are hand stitched on to fine cotton and then joined by machine. There is a 120mm double gathered frill of floral cotton with a beige background. The backing is 2 pieces of cream cotton with repeat floral and musical motifs interspersed with forget me nots.
1500 x 1500mm