Quilt No.589VW - Val Wilkinson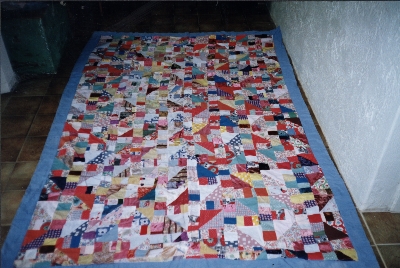 Description:
Scrap quilt made from a myriad of different materials, cottons, silk types velvets etc. Alternate rows have triangles and odd shaped pieces with in between rows of squares and rectangles in smaller pieces. It is completely machine pieced. There is no padding. The backing is blue slub rayon and is brought to the front to form a border.
2200 x 1520mm
History:
The quilt belonged to Daisy Brown of Murrumbeena Victoria, the grandmother of the present owner Val Wilkinson. Daisy died in 1974 aged 83. It is thought she bought the quilt at a church fete. The maker is unknown. The quilt is not used.
Related Quilts:

Patchwork quilt made from hexagon patches in satin and nylon, the nylon overlaid on satin. Fabrics are plain, in a mixture of dark and light colours. No padding. Backing is of pink satin with pink satin ribbon covering the joining seams. Hand sewn with some machine stitching. Feather stitching along the edge. There is no padding.
2211 x 1752mm

Double sided utility quilt made from machine pieced squares of tailors' samples and men's and boy's suitings. The padding is 5 or 6 layers of pieced used clothing including darned, threadbare socks, part jumpers, blanket pieces etc.
2090 x 1340mm

Patchwork quilt of hexagon patches with a large central group of 14 rows, then groups or 'flowers' of 6 patches placed over the rest of the quilt. The colours are red, black, white and blue, in a mixture of stripes, florals and plains. No padding. Backing is a double bed sheet. Hand sewn.
2591 x 2566mm

Frame quilt with the centre frame featuring stars. These are English pieced and then appliqued on to the background using straight stitch on the machine. Borders are squares, rectangles and truangles. Mainly cottons. There is no padding. The backing is an old white bedspread similar to a Marcella.
1900 x 1930mm

This quilt consists of many blocks of different colours with etchings and verse from the bible machine appliqued on to a red backing material. It is a kit quilt.
2580 x 24100mm

Quilt in frame style patchwork with applique and broderie Perse applique in printed cottons and linens with silk embroidery. The centre frame has an octagonal shape of floral printed material appliqued on to cream linen surrounded by pieced and appliqued triangles and sashing of printed cotton. Above the frame is embroidered in dull gold silk in cross stitch 'Mary Moxey 1818 Emma Tremlett Born Decr 16th 1837'. Outer borders are pieced and appliqued diamonds and hexagons separated by printed sashing. The quilt is backed with cream linen.
2405 x 2373mm