Quilt No.642CS - Celia Suddull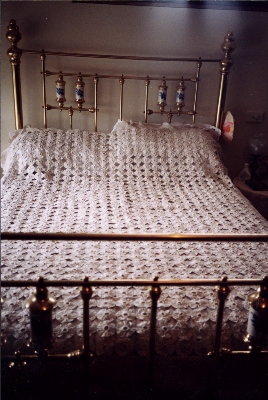 Description:
Suffolk puff coverlet, white cotton, hand sewn. Each puff is 55mm. Edging of needle netting lace.
2190 x 1510mm with 120mm wide needle netting lace.
The set includes a pillow sham 900 x 380mm and a nightgown bag 430 x 330mm. Both are edged with needle netting lace.
History:
This quilt was commenced by Clara Hughes in England and completed on the Orient line steamer the 'Sorata' in 1884. Clara Johnson died in 1955 and the quilt is now with her great grand-daughter Celia Suddull. It is not used.
Story:
Clara Jemima Hughes (1863-1955) was in service in London and agreed to marry William Johnson who was already in Adelaide. In 1884 Clara paid 10 pound for a ticket to Adelaide on the Orient line 'Sorata', one of the first steamships. It is believed the suffolk puff quilt was completed on the voyage out.
William and Clara were married in 1886 and lived first in Broken Hill and in 1891 or 1892 the family, now including one child, George, moved to Jerilderie. William was a baker and pastrycook by trade but in Jerilderie he worked on a property as a useful and handy man and Clara as a cook and house maid. Three more children were born and all died. William drank heavily and Clara took in borders to make ends meet. A pattern she was to follow for many years.
Of 9 children born to Clara, only 4 survived to adulthood.
In 1902 the family moved to Wagga and the quilt was part of their luggage, still in pristine condition and probably never used. At one stage they owned a baker's shop in the main street but William continued to drink heavily and ownership of the shop appears to have been short lived. Clara continued to take in borders.
In 1911 William was appointed head chef at the Wagga Experiment farm at a salary off 5 pounds a week. He was drinking less and their fortunes seem to have improved.
In 1914 William died from the result of a sulky accident. He was 51. Clara was 53, went to work and continued to take in borders.
Clara Johnson died in 1955 with the quilt still rarely if ever used.
[Compiled from extensive family sources and with the assistance of family members by Wendy Hucker for NQR]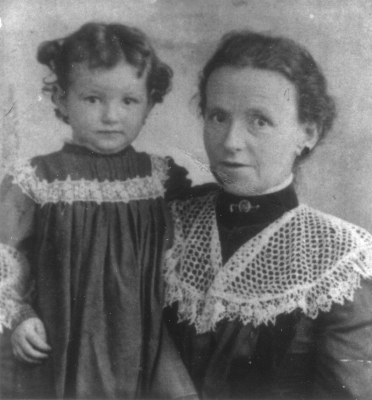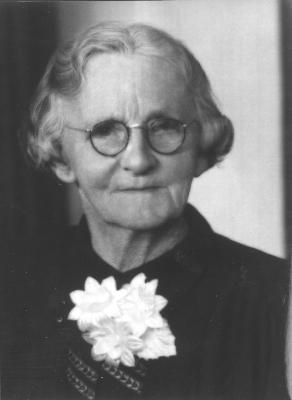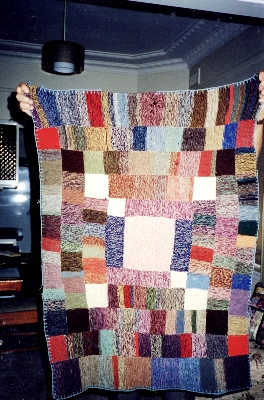 Related Quilts:

Cotton frame quilt with a diamond in the centre of the frame and a border of straight pieces. The outer border is diamonds. The quilt is hand sewn and hand quilted.
1910 x 1830mm

Patchwork cot or pram quilt made of diamond patches in the Tumbling Block pattern. Patches are made from cotton, corduroy and velvet, with red, black, teal blue, green, brown and cream predominating. No padding. Backing is of green wool and the quilt is bound with dark red crushed velvet.
780 x 560mm

Cotton quilt made in the USA. Pattern is the 'Evening Star' and each star has a frame. It is hand pieced and hand quilted and uses shirting material. It has been modified along two sides where the block extension is visible, having been turned to make a hem. The backing is calico and the padding is cotton.
1829 x 1575mm

Patchwork quilt made for a child. All cotton with cotton padding. White blocks have embroidery depicting different nursery rhymes eg Mary, Mary, Quite Contrary ; Old Mother Goose. These blocks are separated by rectangular strips of teal cotton. The quilt is hand stitched and heavily quilted.
1677 x 1271mm

Patchwork quilt or table covering dark and light silks in bright colours, pieced from diamond shapes into stars with black patches between the stars. Plain and patterned silks are used for the stars. Border is made from a single row of Tumbling Blocks in plain silks with an edging on each side of truncated black diamonds on blue on the inside, orange on the outer edge. There is a star pieced of diamonds in each corner. Hand sewn.
1830 x 1800mm

Hand pieced and quilted quilt in silks, wool and cotton dress materials. The centre is a hexagon star in pink and yellow with black points. Most of the body of the quilt is pieced in Tumbling Blocks with an outer border of triangles. The backing is pieced from large rectangles of blue satin, rust-brown moire taffeta and brown-grey silk in a 'rectangle within a rectangle' pattern. The quilting is all over and finely done in yellow thread in a variety of patterns including snails, petalled flowers and hearts.