Quilt No.702BW - Beryl Warne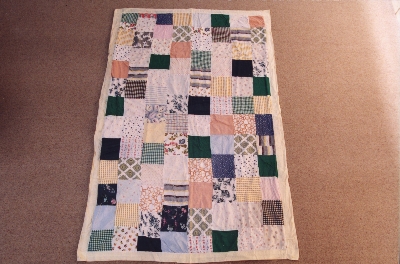 Description:
The quilt's construction is cotton patches about 170mm square joined in strips and then the strips joined. The border and backing are pale lemon coloured cotton lawn. The padding is an old woollen blanket. There is ric-rac braid around the border of the top.
2180 x 1420mm
History:
The quilt was made by Beryl Warne in 1960-1961 at the Methodist Parsonage in Dunolly Victoria. It was made for their son Mark when he went from his cot to a bed. It was used at the Dunolly Parsonage and later at the Boort Parsonage. It is not used now.
Story:
The patches for the quilt were cut from Beryl's dressmaking scraps including from her 'going away dress' and scraps from toddler's clothes and furnishing scraps. Her mother, Ruth Holman, gave her the old wool cream blanket. The pale lemon lawn for the border and backing was purchased at the 'Beehive Emporium' in Bendigo and Beryl made matching curtains for the nursery window. "The family lived happily in comfort but to a budget" [BW]
"I have many memories when I look at this piece. A very humble and functional quilt but treasured by me. I was most happy to live in Dunolly for a couple of years but when the church (Methodist) appointed my husband to Boort, I found the Mallee climate very trying. When, after a severe dust storm this quilt was completely brown with dust - no patches visible- and after only 2 years in Boort we decided to move. The quilt decided it! We moved to the lovely Mornington parish, Westonport area churches."
[Beryl Warne 9.10.2000]
Related Quilts:

Small patchwork piece possibly made from salesman's samples. There is no opening in the back so it is not a cushion cover. There is no padding. The backing is green polished cotton. There is a 40mm fringe around the edge.
520 x 520mm

Double sided quilt. Side 1 has a central patch of small rectangles and borders of half square triangles. Seamed construction. Side 2 is crazy patch in wools and cottons on to a backing material. There is one round segmented circle in the centre. Machine pieced and quilted.
2050 x 1610mm

Patchwork quilt in the Tumbling Block pattern in light and dark silks in bright colours. On both sides and at the bottom is a wide border in Tumbling Blocks, the pattern vertical at the sides and forming a triangle centre bottom, with an edge on both sides of two black bands with pieced diamonds between. Made for a poster bed. Hand sewn.
1790 x 1750mm

The quilt is a repeat block in the Ohio Star pattern in turkey red and cream. Quilted in squares in the cream block and diagonal lines in the star block. The fabric border is disintegrating. The backing is cream calico and the padding is cotton, badly degraded. 1940 x 1760mm.

Red and white cross stitch quilt. Central white panel with red cross stitch embroidery featuring flowers and leaves. Red panels as borders with white embroidery, also flowers and leaves. Machine pieced. Hand quilted in an espalier pattern. There is a fine padding and the backing is homespun. 2200 x 1970mm

Patchwork quilt has a centre of a square within a square, with rows of scraps added around it. The scraps are mainly cotton shirting fabrics and are cut in different sizes and shapes. The two long sides have a narrow red edging folded from the back. The other two sides have been 'bagged'. Filling is an unusual weave thought to be wool. Backing is a pink, red and beige floral cotton.
2080 x 1650mm