Quilt No.727CS - Catherine Llewelyn-Smith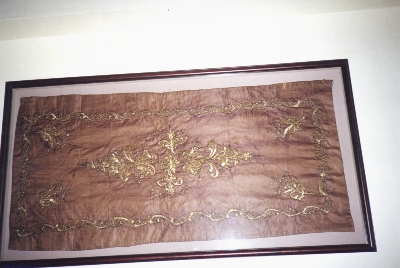 Made in
TURKEY Izmir (formerly Smyrna)
Description:
Quilt remnant. This piece of the top is hand embroidered in gold thread on a background of burgundy silk in a traditional style still practised by Greek women today. The backing is white and probably cotton or linen.
940 x 430mm
History:
The maker is unknown but the remnant comes from a quilt made in Smyrna (now called Izmir) Turkey c.1900. The quilt was owned by Aikaterini (Antonopoulou) Pholeros of Smyrna. It then passed to her daughter Evelyn McLeod and is now owned by Evelyn's daughter Catherine Llewelyn-Smith.
Story:
"A Remnant From Smyrna
This quilt remnant comes from the once-great city of Smyrna, now called Izmir, in Turkey, where Greeks had lived for hundreds of years, probably even back to 1000 BC and through the time of Alexander the Great. At the beginning of the C20th, Smyrna was a big, prosperous, Greek city.
The quilt belonged to Aikaterini Antonopoulo whose father was the head of Lloyd Triestino Shipping company in Smyrna. She married Frank Pholero born (1891) in Parkes NSW, son of Angleo Pholero of Smyrna who came to Australia in about 1870 and became Australia's first Greek Vice Consul.
Frank Pholero had become a senior official of the Anglo-Eastern Railway Company in Smyrna. His position there ended abruptly during the 'great catastrophe' of 1922 when, as a result of the terrible hostilities between Greece and Turkey, the city was torched and burned, thousands were killed, and over one million refugees poured into Greece.
Aikaterini and family fled, leaving behind their house and all possessions. Eventualy they arrived in Australia as penniless refugees, having spent almost two years on the island of Malta. At some time after fleeing Smyrna, Aikaterini received a parcel from Turkey. It seems that a maid she employed had managed to rescue a few items from their house in Smyrna and send them on; among them this piece (perhaps the centre-piece of the original bedspread) and the family photo.
Although not much else is known about the quilt, it can probably be assumed that, in true Greek tradition, the bedspread had been made especially for Aikaterini's prika (dowry), or that it may have been handed down to her through the family. The silk fabric and rich, gold embroidery certainly reflect the well-off position which the family would have enjoyed in Smyrna's 'pre catastrophe' days.
This remnant has been passed down through Aikaterini's daughter Evelyn McLeod, to her daughter Catherine, who with husband David Llewelyn-Smith have two daughters, Victoria and Rebecca.
[Written by Lula Saunders, adapted from interview 14/3/00 for the National Quilt Register]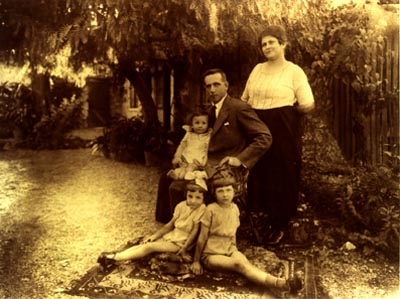 Related Quilts:

Wholecloth pram quilt with a top of pink cotton sateen, and the reverse is a more finely woven, ivory, fabric. All over quilting design as main feature, with stylised hearts, leaves and cross hatching. The padding is cotton batting. 870 x 660 mm.

Hand stitched, cotton, appliquéd, quilt in a flower pattern on a plain background. Colours are shades of green, apricot and browns. This quilt was known as a 'Bride's Quilt'. Padding is thought to be layers of white fabric raised almost like a wadding. The backing is cotton material. 2470 x 2020 mm.

Quilt remnant. This piece of the top is hand embroidered in gold thread on a background of burgundy silk in a traditional style still practised by Greek women today. The backing is white and probably cotton or linen.
940 x 430mm

Wholecloth quilt, both sides cretonne in different rose patterns. 120mm double frill matches each side. Padding is possibly hessian bags. It is hand quilted in large stitches in white/cream cotton in strips with circles, diamonds and scrolls repeated.
2070 x 2030mm

Wholecloth quilt of white cotton with hand appliqued flowers in 3 shades of red. The centre of the quilt has 6 separate flowers radiating from a circle and each corner has a separate arrangement of flowers. The white cotton quilting is in diagonal lines and a daisy pattern. There is a narrow red border widely scalloped. The backing is white cotton. There is no padding.
2236 x 1905mm

Traditional Wagga rug made from 3 wheat bags joined along the long side by sewing with bag needle and twine. Machined twill cover was put on later in the 1960s. Originally no padding but now the bags are the padding. One of a pair(identical).
1790 x 1160mm