Quilt No.98MM - Muriel Mackenzie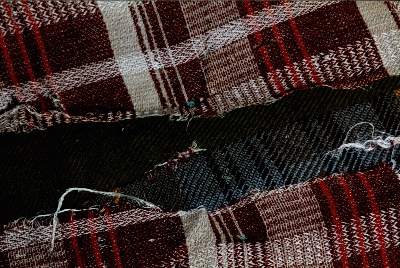 Description:
Wholecloth utilitarian quilt with velour type material top and cottage weave curtain material on the back. The padding is a 'bush blanket'. Machine sewn and quilted.
1677 x 1144mm
History:
Made by Ella Constance Mackenzie (born Canning) during the late 30s or early 40s, at Killarney Queensland. Ella was the mother-in-law of the present owner.
The quilt is stored in a tin trunk and not used.
Story:
"These quilts were made out of necessity to help keep a family warm during very cold winters in Killarney. When I was first engaged and used to go to Killarney I used to hope that these quilts would not be put on my bed as they were very heavy. Within the family they were referred to as 'hug me tights'."
[Muriel Mackenzie 3.10.96]
"My Mother had 4 sons,( no daughters) born in Killarney. Her father built the first hotel in Killarney after migrating form Bath at the turn of the century. My Mother was about 5' 2" always sewing, mending and crocheting. My Father was a commercial traveller representing Thomas Brown, D. & W.Murray, A.M.Hartzberg, general wholesalers. A room in the hotel was used for commercial travellers to lay out their merchandise for the shop keeper to order from."
[Bill Mackenzie 3.10.96]
Bill's mother was not a sewer of clothing for herself or her sons.
Related Quilts:

Wholecloth pram quilt with a top of pink cotton sateen, and the reverse is a more finely woven, ivory, fabric. All over quilting design as main feature, with stylised hearts, leaves and cross hatching. The padding is cotton batting. 870 x 660 mm.

Hand stitched, cotton, appliquéd, quilt in a flower pattern on a plain background. Colours are shades of green, apricot and browns. This quilt was known as a 'Bride's Quilt'. Padding is thought to be layers of white fabric raised almost like a wadding. The backing is cotton material. 2470 x 2020 mm.

Quilt made of tailors' swatches, machine constructed around a central frame that is mainly mid brown pieces. This is surrounded by rectangles of mainly charcoal greys and the outer border is navy blues. The backing is a heavy cotton with random green and cream and grey stripes.
1651 x 1220mm

Double sided square quilt. One side is a crocheted rug. The centre of this is 4 triangles joined and from this coloured bands in crochet radiate out to the border. The other side is randomly pieced scraps of mainly woollen material in checks, plains and tartans. Machine construction.
1600 x 1600mm

Rectangular quilt with front and back made of rectangles of cotton samples of shirt materials, in checks, stripes and plains. Colours are soft muted reds, greens, blues, yellows and browns, and pastels. Construction is 3 to 4 rows of rectangles joined across the quilt. Padding is probably an old blanket. There is a row of hand quilting approximately the width of one patch in from the edge, holding the layers together.
1870 x 950mm

Quilt made of white cotton with a diamond set applique pattern of brown tipped pink dogwood blossoms with green leaves in the centre. Hand appliquéd. The centre is hand quilted with cross hatching and the borders are quilted with feathered cables and circular patterns. Padding is Mountain Mist polyester, the backing is of white cotton. The quilt edges are bound with pink bias binding.
2180 x 1860mm