Quilt No.779MA - Maria Ahilas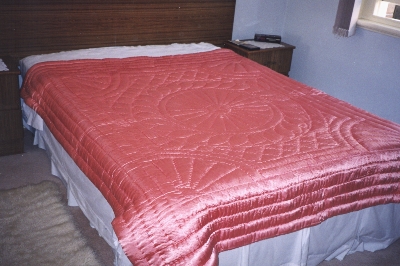 Description:
The quilt top is of rose-pink satin and the backing is a lighter pink cotton. The quilting pattern is a large central 'wheel' motif repeated from each corner like a fan. The centre 'wheel' is surrounded by a single feathered wreath and diamond fill pattern. Hand quilted. The padding is cotton wadding from cotton grown on Lesvos island.
2000 x 1600mm
History:
The quilt was made by a local quiltmaker, Mr. Karagas, in 1963 in Mytilini the capital of Lesvos, Greece. Maria Loutragoto (later Ahilas) brought it to Australia as part of her luggage in 1963. Maria has always owned it.
Story:
"A Paploma from Mytilini
Maria Loutragoto, as a young woman in her twenties, was preparing, in 1963, to leave her village of Paliokipo on the beautiful Gulf of Yera, Lesvos, Greece's third largest island, to make the long journey to Australia. Her fiance of three years, Lambrou Ahilas, was already in Australia, so a top priority for Maria was the assembling of her 'prika' (trousseau) to bring with her. And this, true to Greek tradition, included a 'paploma' (quilt). 'You wouldn't even think of getting married without a paploma, all the girls had at least one - and it's still the same today, only now they buy the ready-made ones.'
Maria's paploma was to be a wedding gift, so she and her mother Mersini went to the 'paplomatas' (quiltmaker) Mr. Karagas in Odos Ermou, Mytilini, capital of Lesvos. Maria chose the beautiful, pink satin fabric and the quilting pattern; and remembers that about five and a half kilos of raw cotton (grown on the island) was used as the wadding.
The early years in this 'xeni hora' (foreign place) were extremely difficult for Maria and for several years she thought only of returning to her homeland, but Lambros liked Australia right from the start, so Maria gradually adapted and can now talk about feeling happy and very satisfied with her life in Australia. Their early years of hard work and frugal living have enabled them to achieve much, and in particular to give their children a good education - Theodora is a solicitor, and Mersini is a primary school teacher.
Even though Maria uses her paploma when visitors come, it is still in excellent condition. Somehow it represents her life journey - originating in Mytilini, travelling with her on the migrant ship 'Patris', then through her years of marriage and children, and now reaching out to their two grandchildren, Joseph and Marianna."
[Written by Lula Saunders; adapted from interview 2/1/01 for the National Quilt Register]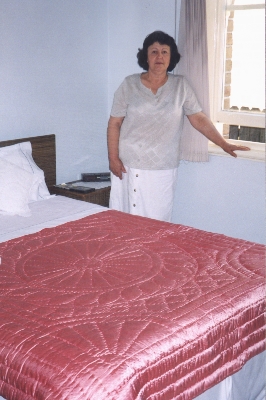 Related Quilts:

Wholecloth pram quilt with a top of pink cotton sateen, and the reverse is a more finely woven, ivory, fabric. All over quilting design as main feature, with stylised hearts, leaves and cross hatching. The padding is cotton batting. 870 x 660 mm.

Hand stitched, cotton, appliquéd, quilt in a flower pattern on a plain background. Colours are shades of green, apricot and browns. This quilt was known as a 'Bride's Quilt'. Padding is thought to be layers of white fabric raised almost like a wadding. The backing is cotton material. 2470 x 2020 mm.

" This coverlet is composed of two pieces of dark blue cheese cloth joined with a row of running stitches down the centre of the coverlet (the seam faces the front face of the coverlet but is hidden beneath a row of appliqué).
The coverlet is decorated with rows of pieced work surrounding appliquéd and embroidered scenes. A panel down the LHS of the quilt and a smaller panel lower RHS depict animals and floral images. In the centre RHS an elderly couple sit beneath a tree. In the upper left a bride and groom accompanied by three flower girls are showered with petals from a wicker basket carried by a very large angel. Glass beads, sequins and a button have been used to highlight the appliqué and embroidery.
As with all of Mary Jane Hannaford's quilts, the work is stitched by hand and quite crudely, but the naivety of the images is overwhelming with their charm." [NGA] The quilt is not padded or lined. 1950 x 1690mm

Hand appliqued, embroidered and quilted, 1940s. Cotton quilt with yellow, pink and purple tulips and green leaves, has scalloped edging with green piping. Hand quilted.
2240 x 885mm

Wholecloth quilt of golden brown cotton sateen, the backing of a lighter yellow cotton sateen. Hand quilted with an allover repeatingr pattern of a cross within a square. The border is quilted with 4 parallel rows of stitching at the sides, and 5 at the top and bottom. Padding is cotton wadding. 1920 x 1440 mm.
1920 x 1440mm

Wholecloth quilt with one side cream wool and one side faded red wool. Red wool is joined with 3 seams by loom length; red appears to be cochineal dyed. Cream wool side appears to have been made from a hand woven blanket with blue selvidge on 2 sides. It is hand quilted in red wool thread; Welsh patterns including clamshell, Welsh pear, snail or spiral. Centre frame has 2 cable borders and the centre corners have fans. The outer quilted border has alternate 4 petal flowers, clamshell, and spirals.
It is padded with hand carded wool.
1950 x 1935mm