Quilt No.793MO - With held as requested
Description:
Wholecloth quilt with top and backing made from coarsley woven linen. The edges are bound with paisley printed material. The quilting pattern consists of a series of whorls in different sizes. The padding is fleece wool.
1920 x 1756mm
History:
The quilt maker is unknown but possibly Hanora Brosnan on the family farm at Close, Castleisland, Co. Kerry, Ireland. It was brought to Australia in 1861 when the family migrated. It passed to her grand- daughter Daisy Brookes and on her death to the present owner. It is not used now.
Story:
"The Hanora Brosnan Quilt.
Born in 1827 at Ballinvariscal, Castleisland, Co. Kerry, Hanora Brosnan was the third child and eldest daughter of Timothy 'Wig' Brosnan and Mary Slattery.
Sometime in the 1830s the family moved to Close, Castleisland where further members of the family were born. About 1857 Hanora met and married John Brosnan and migrated to London where their two eldest children were born. In 1861 the family migrated to Brisbane, Queensland, on the 'Mangerton', where John had been offered a position of warder at the old gaol.
Being free settlers the family were offered a grant of land, near Creek St., Spring Hill. Later they moved to Normanby, 'the old house still standing on the turn off for Red Hill'. About 1865 the family moved to the Redbank area where they took up land and grew cotton as well as a mixed farm of vegetables, fruit trees, wheat, corn, pigs and cattle. John took up a post at the Asylum when the insane were moved there from the old Brisbane gaol.
In the latter part of the 1870s the family moved to Ipswich where the father had taken up the old Criterion Hotel, near the old Court House, now the site of a church. Sometime later Hanora Brosnan moved to Paddington and finally lived with one of her daughters before she died in 1907.
According to her grandaughter, Daisy Brookes, 'In those days (on the farm at Close, Co. Kerry} flax was grown for the making of their own linen. This was made into thread after being taken from the pits and treated, then woven into material. A quilt woven the correct size was stretched on a frame, two thicknesses, padded between with finely clipped wool from their sheep, then quilted in a closely patterned design'.
The date of actual construction of the quilt or who actually made it is unknown but more than likely Hanora and possibly some of her sisters were involved in its construction.
The quilt passed to its present owner, a great- great grandneice of Hanora on the death of Daisy Brookes in 1978."
[Name with-held as requested 8.2.99]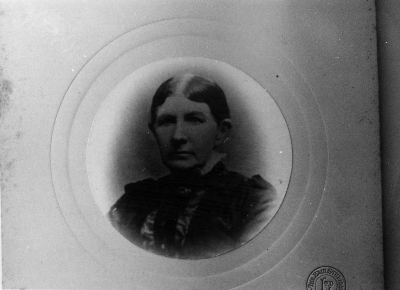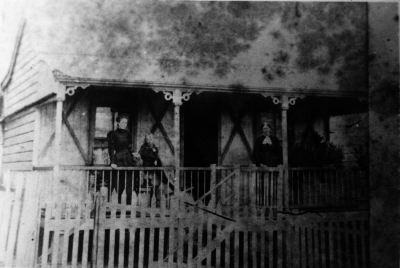 Related Quilts:

Wholecloth pram quilt with a top of pink cotton sateen, and the reverse is a more finely woven, ivory, fabric. All over quilting design as main feature, with stylised hearts, leaves and cross hatching. The padding is cotton batting. 870 x 660 mm.

Hand stitched, cotton, appliquéd, quilt in a flower pattern on a plain background. Colours are shades of green, apricot and browns. This quilt was known as a 'Bride's Quilt'. Padding is thought to be layers of white fabric raised almost like a wadding. The backing is cotton material. 2470 x 2020 mm.

This 'Quilt' is made from an army great coat from the second world war. The seams have been unpicked and pieced together by machine zig-zagging the flat edges (with Singer treadle sewing machine). The pocket slits are turned back and seamed rather than being pared off. The outside edges are turned over and blanket stitched in red. It does not have a backing.
1620 x 1180mm

One side of this wholcloth quilt is a single piece of cretonne or similar with a pattern of autumn leaves. The other side is patched pieces of curtaining. The padding is old clothing, mainly knits, tacked to random pieces of curtain material. The quilt is tacked together to hold all the padding in and machine stitched to the backing.
1850 x 1100mm

Whole cloth traditional Durham quilt in sateen, pink one side and ivory the other. Elaborately hand quilted. It is padded but the type of padding is unknown. 2030 x 2030mm.

Durham quilt. Hand quilted with Durham Feather Pink on one side and cream on the other. Cotton material with a slightly sheen cotton used for the quilting. Cotton wool padding.
2440 x 2150mm