Quilt No.806QVM - Queen Victoria Museum and Art Gallery
Description:
Frame quilt, hand and machine sewn, centre square of squares (7 rows by 7 rows) of 2 triangles, with red border. Alternate rows of triangles, rectangles, 'flying geese' border, squares, squares set on point with triangles, wide red border. Hand quilted throughout in chevrons, single cables and single scallops. The padding is a hand woven cream wool blanket and the backing is cream cotton twill.
2330 x 2030mm
History:
The quilt was made by Sarah Nicholls (born Mosely) c.1900 in Wales. Her grand-daughter Ida Rix came to Australia after World War 2. She donated the quilt to the Queen Victoria Museum and Art Gallery in 2001.
Story:
"This quilt was made about AD 1900 by Sarah Nicholls (nee Moseley) 1867-1906. She was one of a family of 8 children only 4 of whom survived to adulthood. Sarah herself died at the age of 39 from consumption. She was a pianist and singer and played the organ in church. In 1892 she married Evan Nicholls who owned the village store opposite to her home.
The village of Llandewi Ystradenau, their home lies in the valley of the River Ithon, tributary of the River Severn, bwteen the hills of the Gaer and Giant's Grave near Llandrndod Wells in Powys, Wales���..
Up until the 2nd World War the village consisted of 11 houses, a working flour-mill, water driven, a forge for shooing horses, a carpenter's shop and a wheel wright, also a shoemaker and a saw mill. At the front of the village store was a mounting block and there was a village pump. Sadly, all of these features have since vanished.
Sarah was brougt up at Llandewi Hall. At the time the area and all properties therein were owned by Lord Ormothwaite. Sarah's father was a tenant farmer and school governor. At his farm sale in 1908 there were '156 magnificent speckled Radnor and Kerry hills sheep. 70 well descended Hereford cattle, 14 working horses, mares, colts, cobs and ponies' (quotation from Families of Llandewi Hall)��.
Sarah's husband Evan Nicholls was a master draper who served his apprenticeship with Beatties of Wolverhampton, at the time a double fronted shop, now a large department store with branches in 6 major cities. Beatties celebrated their centenary in 1977 so would have been fairly new when Evan was there. Evan was born in 1867. He bought Llandewi Store in 1889 and married Sarah Moseley in 1892. The business was varied, post office, grocery, drapery, medecines and a good agricultural seed trade. Two horses were kept and eventually a dressmaker and a tailor were employed there. Big business was done in supplying workmen with cord trousers and sleeve waistcoats. Ladies came into the shop to be measured for dresses especially for weddings and funerals�����..The business grew until there was a fleet of 14 vans and lorries and a staff of 50. During World War 11 when food was rationed, Nicholls and Sons were collecting 8 or 9 tons of rabbits from farmers and selling them in Birmingham and London. As Sarah died in 1906 she would not have been involved in the business at its height which would have been just before and after World War 11. The patchwork quilt, some music books and her engagement ring are all that is left to remin us of this very talented lady who lived such a short life."
[Ida Rix (?) for QVMAG]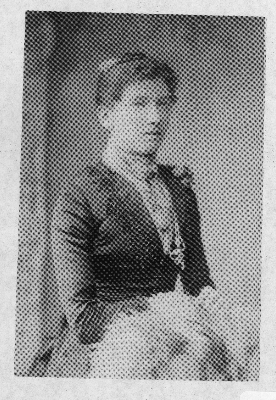 Related Quilts:

Repeat block in Dresden Plate pattern using various cotton fabrics from the 1920s. Quilted with a flower in the purple/pink centre and squares elsewhere. Border is furnishing fabric. The padding is cotton that is disintegrating and the backing is calico. 1980 x 2100mm

Small patchwork piece possibly made from salesman's samples. There is no opening in the back so it is not a cushion cover. There is no padding. The backing is green polished cotton. There is a 40mm fringe around the edge.
520 x 520mm

The quilt is called 'Loved'. The pattern is log cabin and it is made from dress materials and pyjama flannelette. The original filling was a heavy woollen blanket (now flannelette) and the backing is green headcloth - all government issue. With its restoration, the backing was supplemented with a green floral, and the quilt is now tied. The quilt is machine pieced, some restoration work is done by hand.
2260 x 1920mm

Hexagon quilt made by hand from a wide variety of cotton materials. There is no padding and the backing is calico.
2286 x 915mm

"A medallion or framed quilt in design. There is a central field of small patchwork diamonds, and from this radiates plain stripes of fabric bordering areas of patchwork panels. The edge of the quilt carries bands of red cotton, which are slightly larger at the top and bottom edges, and here the band is additionally decorated with appliqué diamonds. The fabric of the patchwork is cotton in fine plain weave of pale coloured florals and small geometric designs. The framing and border stripes are of bright red twill weave cotton. The small diamonds of the central field are hand sewn, with more use of machine stitching around the outer edge of the quilt.
The quilt is not padded. The patchwork is fully lined with a printed plain weave cotton fabric with a design commemorating Queen Victoria's Jubilee. The design is based on a repeated grid of circles. In the centre of each circle is a cameo of Queen Victoria, surrounded by images of the national flowers of England, Scotland and Ireland: the rose, the thistle and the shamrock. The edge of the front face of the quilt is trimmed with a red and white cotton braid." [NGA] 2380 x 2220mm

Patchwork knee rug made from maroon wool cut up from a garment into different sized rectangles. Pieced by hand, then all edges crocheted with coloured wool thread. The top was then machined and quilted to a pale blue wool backing. No padding.
1080 x 780mm