Quilt No.1007PH - Pearl Holland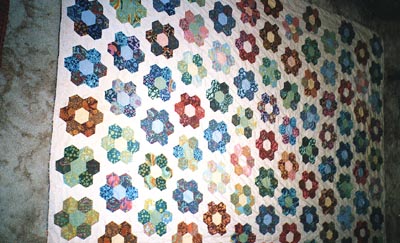 Description:
This is one of two single bed quilts in a pattern the owner calls 'Martha Washington's Flower Garden'. Flowers are in six hexagons in a variety of prints with a plain coloured centre. The background is cream, and the backing is calico. 2500 x 1800 mm.
History:
This quilt was made by Pearl Holland in approximately 1956 in Castlemaine, Victoria. It is still owned by Pearl Holland, and is used in the family holiday unit in Hervey Bay, Queensland.
Story:
"The name (Martha Washington's Flower Garden) was given to Pearl by Mrs Brent Clarke who was President of Quilters Association in Melbourne at one stage. In the 1920's, Pearl had seen her mother's friend working on a quilt with this pattern, so these quilts are from her own memory of what she saw then. She used sample materials from Sekers Wholesalers in Melbourne who gave her the pieces still in their bundles after she was introduced with a letter from a local Castlemaine draper (Max Rigg)."
"Pearl Holland (nee Chanter) was born at Numorkah in N.E. Victoria in 1910. She has always been interested in craft work and has tried many forms including weaving, leatherwork, copper and enamelwork, quilting, tatting, crochet work (hairpin crochet using fine wool from Castlemaine Woollen Mill - blankets were made from this), cane goods, knitting, wood carving, macrame, china painting and many forms of embroidery. She was a member of the Victorian Embroiderer's Guild and presented workshops around the Midlands area during 1960's and 1970's. Samples of her copper and enamel work are on display under the banner of the Stanley Ellis School at Castlemaine Art Gallery. After retiring to Queensland with her husband in late 1970's, Pearl has continued her craft work interests and at age 91 (Sept 2001) still creates creditable work. A present project is a colourful knee rug for her daughter in law." [Pearl Holland]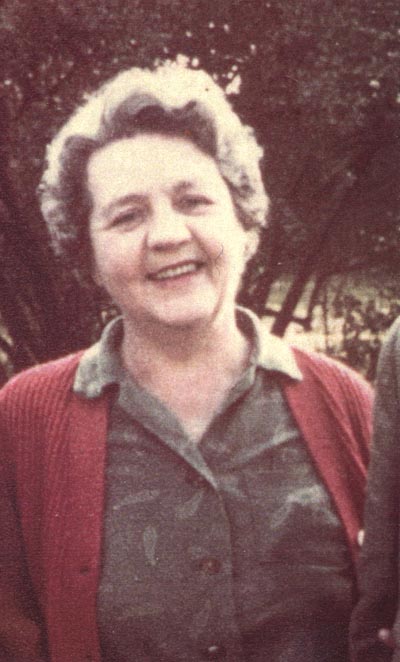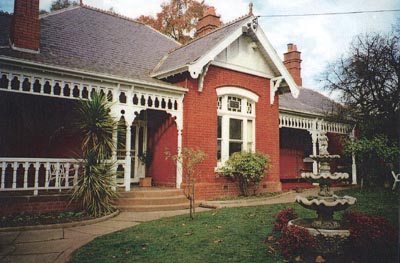 Related Quilts:

Silk quilt in diamonds with hexagon border. "Toward the edge of the quilt, the design of diamonds made into blocks offers an optical illusion, where the diamonds can be seen to form stars. The border is made up of these stars and half-diamonds, and the entire quilt is trimmed with lace and triangular flaps made of tiny hexagons." [extract unidentified magazine article supplied by quilt owner.]
The backing is maroon cotton. 1600 x 1600 mm.

Machine pieced cotton quilt, in random design of geometric pieces. Materials used are cotton sheeting, dress fabrics, broderie anglaise, and seersucker. There is no padding, and backing is white curtain lining.
1540 x 1150 mm.

Rectangular quilt of print and plain
cottons pieced in squares and rectangles within 2 frames, the inner border or frame of blue/green check material, then 2 rows of squares and rectangles, the outer frame of a grey and red geometric pattern and 2 rows of squares or rectangles. Backing of plain fabric. Machine stitched on a treadle machine.

Crazy patchwork quilt made from silk and cotton fabrics, in patterns and plains, in bright colours. Patches are arranged around a central diamond shaped patch in yellow which is bordered with light blue. All seams are covered with featherstitch and herringbone stitch. Patches were stitched onto a calico backing. A recent calico backing ahs been added and dark blue binding attached to the edge. No padding.
1555 x 910mm

Single bed quilt hand pieced from silk hexagons using the English method. The border, backing and central rosette of hexagons are black. All other hexagons are a mixture of plain colours, stripes and florals. They are randomly placed. It is quilted in a diamond pattern. The padding is a thin cotton woven material.
1550 x 1330mm

Small rectangular bed cover, probably child's or even doll's, made from rectangles of cream linen stitched together with hand sewn french seams. The top surface is decorated with small squares and rectangles of coloured silk, velvet, wool and cotton attached approximately 25mm apart, with 3 stitches in centre of patch to attach to background. Bright pink wool patches stand out.
935 x 635mm