Quilt No.465MT - Marie Thomas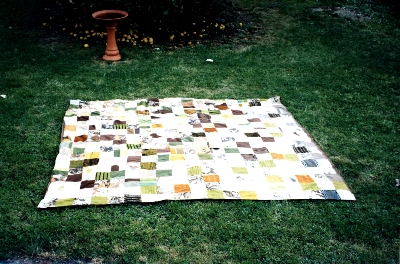 Description:
150mm squares of old material scraps, mostly cotton, including some curtain material. There is no padding and the backing is brown lawn.
2540 x 2370mm
History:
This quilt was made in the early 1960s by Marie Thomas and is still owned by her. It is not used.
Story:
Marie Thomas made the quilt for their bed from old material scraps she already had. Marie wrote that they badly needed a bedspread but couldn't afford to buy one.
Related Quilts:

Double sided silk quilt. One side is paisley designs and the reverse plain silk . Machine pieced. There is a thin padding possibly sheeting.
2694 x 2287mm

Silk and velvet frame quilt with centre patchwork block of squares and triangles with a top and bottom border of silk in Royal Stewart tartan. This rectangular centre frame is surrounded by plain and 'saw tooth' (triangles) borders. The outer border is dark grey silk embroidered in pastels in stem stitch in a meandering vine and leaf pattern. There is no padding or quilting. Backing originally of mustard wool material machine stitched along turned in edges. Dark red cotton is attached to original backing.
2015 x 1320mm

Machine pieced cot quilt made from squares of material including tweed, wool, blanket and pyjama material. The squares are joined in rows with colours randomly placed. There is a pink satin edging. The backing is part of a pale pink blanket.
1150 x 900mm

Patchwork quilt made from squares of woollen fabric scraps from dressmaking. Squares are stitched together in no particular order. Colours are bright, with pink, yellow, green, brown and light blue predominating. Fabric is plain, checks and stripes. No padding or quilting. Backing is a cotton bedspread, striped in pinks and magenta.
2530 x 1640mm

Cotton quilt of pieced hexagons and some diamonds made for a baby's basket. Colours are mainly blue and pink and two 'Punch and Judy's' are appliqued in the centre. There is no padding and the backing is a cotton floral in blues and greens.
760 x 660mm

150 x 210mm pieces of bound suiting samples overlapped and machined together then herringboned with gold/yellow thread. Each piece has an embroidered motif, using single thread, mainly non Australian birds and animals. '1903' is embroidered on a centre piece. It is hand quilted. The backing is a black floral print. There is no padding.
1800 x 1940mm