Quilt No.825NTR - National Trust of Australia (TAS)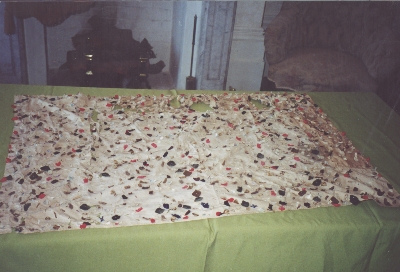 Description:
Small rectangular bed cover, probably child's or even doll's, made from rectangles of cream linen stitched together with hand sewn french seams. The top surface is decorated with small squares and rectangles of coloured silk, velvet, wool and cotton attached approximately 25mm apart, with 3 stitches in centre of patch to attach to background. Bright pink wool patches stand out.
935 x 635mm
History:
This small bedcover was part of the estate of Miss E. Bayley. The Bayley family lived at Runnymede for around 100 years. It was possibly made by a child with adult help.
Related Quilts:

Almost square top made of military colour patches of woollen material machine sewn on to blanket pieces, then each piece hand stitched together. The top is a frame style with central group of patches in a star motif with colour patches set in borders around the centre. There is no padding and the backing is the blanket pieces.
2143 x 2090mm

Cotton quilt . Blue squares with evry alternate square cream with an appliqued butterfly. Blue border. Completely hand quilted. Light weight padding and cotton backing .
2743 x 1829mm

One side of this quilt is large pieces of check and striped material surrounding a small patterned supper cloth with a border of scrap pieces. The other side is small, floral, check, spotted, striped and plain cotton pieces surrounding a tablecloth. It is machine sewn and is not quilted. The padding is an old woollen blanket.
1825 x 1625mm

Small patchwork piece in crazy patchwork in silks, satins, and velvets. Embroidered initials 'A.N' also an embroidered crest, the date 1869 with initials 'A.W.N'. There is also decorative stitching over the joins of most pieces. It is not padded. The backing is Jacquard.
661 a 649mm

Crazy quilt made from a lot of light wools including gabardine types. Patches are outlined in embroidery stitches and there is additional embroidery on some patches. It is worked in 3 ply wool thought to be Patonyle (early blend of nylon and wool). The backing is a floral print mainly black with a cream flowers, brought to the front as a binding. Occasional stitches holding front to back by way of quilting. There is no padding.
1600 x 2100mm

Cotton quilt made in the USA. Pattern is the 'Evening Star' and each star has a frame. It is hand pieced and hand quilted and uses shirting material. It has been modified along two sides where the block extension is visible, having been turned to make a hem. The backing is calico and the padding is cotton.
1829 x 1575mm