Quilt No.825NTR - National Trust of Australia (TAS)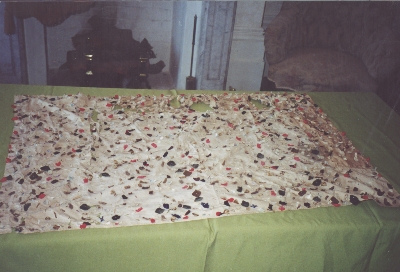 Description:
Small rectangular bed cover, probably child's or even doll's, made from rectangles of cream linen stitched together with hand sewn french seams. The top surface is decorated with small squares and rectangles of coloured silk, velvet, wool and cotton attached approximately 25mm apart, with 3 stitches in centre of patch to attach to background. Bright pink wool patches stand out.
935 x 635mm
History:
This small bedcover was part of the estate of Miss E. Bayley. The Bayley family lived at Runnymede for around 100 years. It was possibly made by a child with adult help.
Related Quilts:

Folded log cabin, foundation pieced. Machine constructed. Materials are cotton, wool, rayon, flannelette, silk and twill. There is no padding and the backing is cretonne. 2700 x 2100 mm

Utilitarian quilt made from large pieces of wool, flannel and cotton. Machine construction and the padding is wool.
1570 x 152Omm

Hand sewn hexagons over paper templates in a pattern known as 'Grandmother's Flower Garden'. Materials are printed dress cottons, patterned and plain, mainly in pinks, blues and browns. The border and backing is grey linen and is machine stitched on. There is no padding. 2060 x 1579 mm.

9 large blocks of crazy patchwork in silks and velvets. The blocks are divided by strips of deep ruby coloured silk. There is a wide ruby border with peaks to which is attached cream lace. The backing is beige silk. The main blocks are outlined with feather stitch in gold thread and many individual patches are outlined in fancy stitches and have embroidered motifs some of which are Australian eg centre patch has Sturt's Desert Pea flowers, parrots, wattle. There are also English flowers, Japanese motifs, flags, domestic objects and Marianne's initials. Embroidery is in a variety of threads including chenille.
2250 x 2180mm

Pieced repeat block in 'Dresden Plate' pattern in a variety of fabrics with pink and pale blue predominating. Scalloped outer edge. Machine pieced and hand quilted, with echo quilting of four petals between the 'Dresden Plates'. The padding is polyester, and the backing is white calico. 2600 x 1630 mm.

This is one of two single bed quilts in a pattern the owner calls 'Martha Washington's Flower Garden'. Flowers are in six hexagons in a variety of prints with a plain coloured centre. The background is cream, and the backing is calico. 2500 x 1800 mm.