Quilt No.840AG - Annette Gero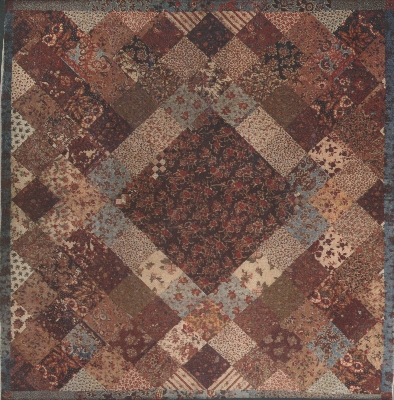 Description:
Hand pieced frame quilt with centre frame and borders of squares set on point. There is a blue patterned border. The backing is white and it is finely quilted. "The fabrics themselves are all absolutely typical of the period [1830 t0 1840] and many, if not most, of them can be found as illustrations in historical textile reference books - in this respect the quilt is virtually a book chapter in itself and has a particular value to a quilt historian. At about this period in England cottons and chintzes were being produced in great quantity and were relatively modestly priced." [Annette...
History:
The maker was Miss Jane Temperley Hope and the quilt was made in Hexham, Northumberland, England c.1840. In 1932 it was sent to Mrs. A.E.Talbot who was related to Miss Jane Temperley Hope on the maternal side. It is now in the collection of Annette Gero.
Story:
"The Sydney Morning Herald, Wednesday, July 20, 1932 'A Century Old Patchwork Quilt is Mass of Fine Hand Quilting and Old Fashioned Chintzes. Very proud of this marvellous patchwork quilt is Mrs.A.E.Talbot, wife of Dean Talbot. The quilt which is made of pieces of the loveliest of patterned and gaily coloured chintzes, has a plain white lining, showing an intricate and beautiful pattern worked in quilting. It was the work of one, Miss Jane Temperley Hope, in 1798-1800, who lived at Hexham, Northumberland, England, an ancestress of Mrs. Talbot's on the mother side, and has been in the family ever since. It was recently sent to her mother, Mrs. A. Vert, who has passed it on.' It was brought to Sydney in 1932. The fabrics themselves are a document of chintz available in the 1830s and 40s making this quilt an important historical record." [Annette Gero]
Related Quilts:

Crazy patchwork quilt with mainly patterned pieces in a wide variety of designs and colours. Backing is wholecloth patterned cotton. The quilt is edged with a checked bias binding. Machine construction.
2299 x 1449mm

Double sided quilt made from woollen suiting pieces some of which have hand worked eyelets. Many of the rectangles are irregular. Both sides use similar pieces but arranged in different patterns. There is no padding.
2160 x 1524mm

Reversible quilt. Both sides are small squares of cotton scraps mainly left over from children's clothes. Plain and patterned pieces in a wide variety of colours. Hand stitched. Padding is pieced men's clothing, jumpers, cardigans, trousers. The present owner zig zagged over the seams, bound the edges and 'clouted' (her term) it in circles and squares.
2080 x 1570mm

Patchwork quilt, log cabin pattern. Made of strips of dark and light material arranged to produce strongly contrasting bands running diagonally across the quilt. Colours are mainly pinks and blues in small floral and paisley cotton prints. There is no padding.
1310 x 1140mm

Quilt of small silk and rayon rosettes of hexagons in prints and plain materials including velvet, voided velvet, chine, printed silk, brocades, taffeta, satin, crepes. Many of the materials are from Japanese kimono and wrapping silks. It is pieced over papers, one paper has a typed date '1930'. The backing is black silk satin and is turned to the front to form a border.
1695 x 1390mm

Patchwork quilt made from pure wool suiting samples in shades of navy blue and brown. Quilt is constructed in 11 rows containing 11 pieces. Each piece is 14cm x 9cm. No padding. Backing is of mauve cotton with a floral pattern of closely spaces white/pale mauve flowers.
1480 x 900mm