Quilt No.974NGA - National Gallery of Australia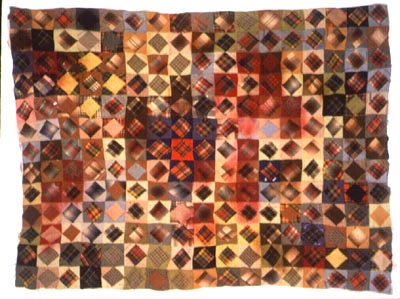 Owner:
National Gallery of Australia
Description:
" This well worn quilt is of pieced diamonds set into squares (221 make up the quilt). Thick woollen fabric has been used for the pieces. These are with plain dyed fabrics or tartans and checks. All work on the quilt is hand sewn. The quilt was lined with a fine blue cotton." [NGA] The quilt is not padded. 1835 x 1400mm
History:
"Mrs Alice Edith Farrer nee Gilbert (Australia 1885 - 1965) made this quilt at Warrnambool, where she lived with her family. Marion Gillespie-Jones, Alice Farrer's granddaughter, Australian Capital Territory, donated this quilt to the National Gallery of Australia in 1989." [NGA]
Related Quilts:

Machine made cotton quilt with 100mm cotton squares placed diagonally with peaks running around the edge. The colours are mainly autiumn tones and the patterns include checks, tartans, florals, geometric and plains. Materials were scraps left over from sewing projects such as children's clothes. There is a matching valance.

Double sided quilt. Side 1 has a central patch of small rectangles and borders of half square triangles. Seamed construction. Side 2 is crazy patch in wools and cottons on to a backing material. There is one round segmented circle in the centre. Machine pieced and quilted.
2050 x 1610mm

This is one of two single bed quilts in a pattern the owner calls 'Martha Washington's Flower Garden'. Flowers are in six hexagons in a variety of prints with a plain coloured centre. The background is cream, and the backing is calico. 2500 x 1800 mm.
Cotton scrap quilt with shapes of squares and diamonds and strips. There is no padding and the backing is calico.
2125 x 1440mm

Quilt of machine pieced squares and rectangles using a wide variety of materials in plain colours and patterns. It is one of a pair. There is no padding and the backing is 90cm strips of calico.
2500 x 2130mm

Patchwork quilt in the Tumbling Block pattern in light and dark silks in bright colours. On both sides and at the bottom is a wide border in Tumbling Blocks, the pattern vertical at the sides and forming a triangle centre bottom, with an edge on both sides of two black bands with pieced diamonds between. Made for a poster bed. Hand sewn.
1790 x 1750mm