Quilt No.959NGA - National Gallery of Australia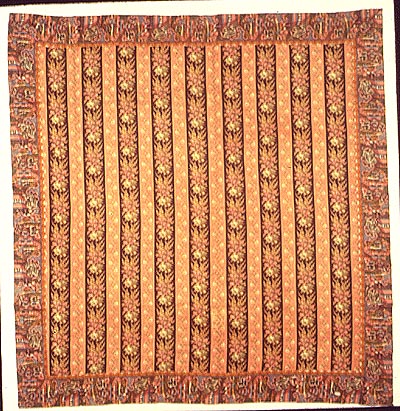 Description:
"This is not a true quilt, but a pieced coverlet with a lining. The entire front face of the quilt is of pieced hexagonal and part hexagonal printed cotton patches. Pieces are joined with hand sewn over casting stitches of many different coloured cotton threads. The joining of the patches forms a 'daisy' pattern in some areas and in others it is random. The edge of the front face of the quilt carries a 40mm strip of cotton Chinoiserie which is then folded to the reverse of the quilt and becomes part of the lining. The template for the hexagon patches remains in many of the patches:...
History:
"Mrs. Marjorie Campbell (c1895-1967) of Victoria bequeathed this quilt to a member of her family. Marjorie may have been a descendant of one of the artists. In 1998 the Canberra Quilters Inc., purchased it from a close relative of Marjorie Campbell. In the same year, the Canberra Quilters Inc., donated the quilt to the National Gallery of Australia in memory of Jim Logan, the former Curator of Australian Decorative Arts." [NGA]
Story:
"There is little information about the fabrication of this quilt. It is remarkable for its use of fabrics that are contemporary to the Rajah quilt and the wonderful use of a rather wild chinoiserie lining reflects the fashion of the times. The stitching indicates two makers of differing skill, which implies that the fabric may have been brought out from England and cut out by one generation, then sewn and finished by the next." [NGA]
Related Quilts:

Hexagon quilt constructed over papers; all seams oversewn with featherstitch embroidery. Materials are vyella and clydella scraps from childhood dresses of the maker's first four children, augmented with scraps from a dressmaker and a book of samples. There is no padding; backing is plain, pale blue, brushed cotton.
2200 x 1720 mm.

Machine sewn reversible quilt. Side 1 is rectangles of men's suiting samples in mainly grey, navy and black, stripes and self patterns. Side 2 is men's suiting samples but also includes woollen rectangular pieces in plain blue and deep pink. There is a hand sewn binding of fine orange-brown wool. The padding is hessian and cotton.
1460 x 1100mm

"English patchwork pieces. 1110mm x 1500mm. Hand pieced by at least two people. Made from scraps, cut down clothing and sheeting. Backing made from shirtings, dress fabrics, furnishing fabric and ticking. No synthetics. Machine quilted. Condition, fragile�.." [Dubbo Museum]

The quilt's construction is cotton patches about 170mm square joined in strips and then the strips joined. The border and backing are pale lemon coloured cotton lawn. The padding is an old woollen blanket. There is ric-rac braid around the border of the top.
2180 x 1420mm

Patchwork cradle quilt of pieced repeat blocks. All cotton including cotton filling. Pattern is in faded greens and pinks,"4 pointed star" in circles. There are 20 blocks.
991 x 788mm

Quilt made of 9120 very small Suffolk Puffs, each one about the size of a 20 cent piece. "Each piece backed and the front of it drawn up like a reticule. It was not backed and was rather fragile, so I backed it on to a sheet, as it was heavy and in danger of tearing when lifted." [Gillian Sullivan]
2360 x 2230 mm