Quilt No.970NGA - National Gallery of Australia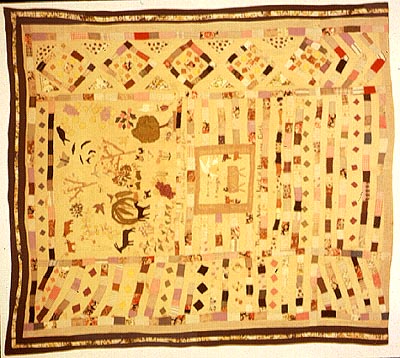 Owner:
National Gallery of Australia
Description:
" A coverlet of 7 pieces of cream muslin. The edges of the work are secured at the top and sides with bands of green and floral strips. The lower edge has been turned and hemmed. The 'quilt' is highly decorated with bands and diamonds of appliqué fabric. The upper centre field is appliquéd with images depicting Adam and Eve in the Garden of Eden surrounded by trees and a variety of animals and insects. In the centre is a smaller appliquéd image of the manger with mangel and cows. The quilt is not signed or dated, but each of the imaged areas is accompanied by a descriptive text. The...
History:
The quilt was made by Mary Jane Hannaford about 1924 at Blanford, near Murrurundi, New South Wales.
"There are seven known quilts initialled 'M.J.H.' five of which are owned by the National Gallery of Australia. The National Gallery of Australia purchased this quilt from a private collector, Sydney in 1982." [NGA]
Story:
"Mary Jane Hannaford was born in Devonshire, England in 1840. She came to Australia on board the 'London', arriving in Sydney in March 1842. The family moved to Tamworth after the Australian Agricultural Company contracted her Father as shepherd. Her father died in 1852, when Mary was 12. Her Mother remarried 2 years later and they moved to Blanford near Murrurundi, New South Wales. Mary Jane lived with her parents until they died and continued to live with her brother on the farm 'Balmoral'. She never married, but had a daughter, Emily Agnes Hannaford who married George Cady in 1887. Mary Jane died in Blanford in 1930." [NGA]
Related Quilts:

Wholecloth pram quilt with a top of pink cotton sateen, and the reverse is a more finely woven, ivory, fabric. All over quilting design as main feature, with stylised hearts, leaves and cross hatching. The padding is cotton batting. 870 x 660 mm.

Hand stitched, cotton, appliquéd, quilt in a flower pattern on a plain background. Colours are shades of green, apricot and browns. This quilt was known as a 'Bride's Quilt'. Padding is thought to be layers of white fabric raised almost like a wadding. The backing is cotton material. 2470 x 2020 mm.

Utilitarian quilt. Padding consists of recycled hand knitted jumper pieces (mainly 3 ply crepe and 8 ply) tacked to a layer of cotton material with strong buttonhole twist thread. The top is a piece of cotton fabric. Machine quilted in rows approximately 70mm apart.
1827 x 1423mm

Wholecloth quilt of golden brown cotton satin, the reverse side of pink cotton satin. Central quilting pattern of interlaced curves, within 3 rows of parallel stitching, then a border pattern of an interlaced knot design, the edge finished with 2 rows of parallel quilting. Filling of cotton. 2010 x 1920 mm.
2010 x 1920mm

"The coverlet is of cream cheesecloth, highly decorated with applied figures and pieced fabric bands. The appliqué bands follow the edge of the coverlet for some time and then become circles radiating from the centre. The bands form two framed circular areas that carry appliquéd images. A smaller area lower centre of the cloth depicts birds and insects. In the centre of the work is a bordered oval with two aboriginal figures, an angel, kangaroo, emu and kookaburra, with the words 'Advance Australia Fair' embroidered in black thread. The stitching and construction of the coverlet is quite crude." [NGA] The quilt is not padded or lined. 1640 x 1550mm
Wholecloth quilt covered front and back with the least worn parts of old curtains. The padding is a carded wool sheet from Ipswich Woollen Mills placed between layers of cheesecloth.
1800 x 1225mm