Quilt No.975NGA - National Gallery of Australia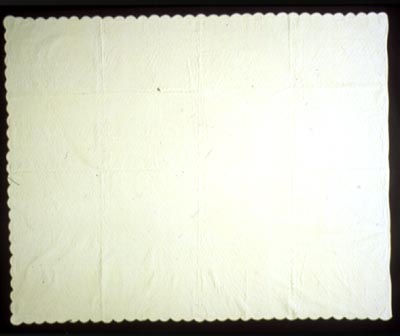 Owner:
National Gallery of Australia
Description:
"This all white quilt has a front face of fine white plain weave cotton. The quilt is lined with brushed cotton twill. The two layers are quilted with white cotton thread across the entire surface with rows of zigzag stitching 16-20mm apart.
The edges of the quilt have been cut to form scallops and the raw edges here are secured with a binding of fabric similar to that used on the front face of the quilt. All work on the quilt appears to be hand sewn." [NGA] The quilt is not padded. 2655 x 2150mm
History:
"Mrs Isabella Cooke (Australia 1860-1942) made this quilt around 1930. It remained in the artist's family until the National Gallery of Australia purchased the quilt from a private collection, Australian Capital Territory, in 1992." [NGA]
Related Quilts:

Wholecloth pram quilt with a top of pink cotton sateen, and the reverse is a more finely woven, ivory, fabric. All over quilting design as main feature, with stylised hearts, leaves and cross hatching. The padding is cotton batting. 870 x 660 mm.

Hand stitched, cotton, appliquéd, quilt in a flower pattern on a plain background. Colours are shades of green, apricot and browns. This quilt was known as a 'Bride's Quilt'. Padding is thought to be layers of white fabric raised almost like a wadding. The backing is cotton material. 2470 x 2020 mm.

Wholecloth quilt with one side of blue satin and the other of red cotton or sateen. Overall intricate quilting pattern with each part based on a symbol of Rhodes. On the blue side the quilting stitches outlining the deer have been over embroidered in gold braid. The padding is raw cotton.
2040 x 1750mm

Traditional hand stitched Greek quilt, the top piece (in Greek a 'Stoffa') is of blue brocade with a gold pattern of roses and leaves. The border and backing are made from gold brocade woven with a daisy pattern (the same material as is in sister Ann Kyranis' quilt). The padding is cotton wool.
2100 x 1740mm

Wholecloth quilt covered with floral cretonne both sides, deep pink and yellow flowers on a cream background. The padding is hessian/jute type bags joined.
One of a pair but the other quilt is larger.
1800 x 900mm

World' quilt of linen squares , autographed, embroidered in stranded cotton and the squares sewn together.
2000 x 2000mm