Quilt No.954AP - Agnes Pratten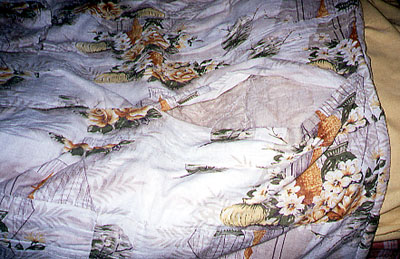 Description:
Wholecloth quilt covered front and back with the least worn parts of old curtains. The padding is a carded wool sheet from Ipswich Woollen Mills placed between layers of cheesecloth.
1800 x 1225mm
History:
This utilitarian quilt was made in Queensland by Nessie Pratten's mother, Mrs. Ball, when Nessie was 15 years old. It was made during the depression and Nessie used it for many years and it is still owned by her. "[it is used] when I have a full house, or if someone has to sleep on the floor [it is] used underneath." [NP]
Story:
"The wool for this was brought out during the depression years, to help the wool industry and also to help keep people warm, as blankets were too dear to buy, think it would have been about 25 shillings, cheese cloth about 6 pence a yard. This would not have been its original cover, but it would have been covered with cretonne from curtains I am sure.
During the depression my father was a War Pensioner from first world war and due to war wounds was unable to work and my mother had to manage with 5/- five shillings to keep us on (State children got 10/- ten shillings). She thought it really did not pay to get married. But as you can imagine life was not easy, but would have been a lot worse if she had not been clever with her fingers and a good manager."
[Nessie Pratten, Queensland, October 2000]
Related Quilts:

Wholecloth pram quilt with a top of pink cotton sateen, and the reverse is a more finely woven, ivory, fabric. All over quilting design as main feature, with stylised hearts, leaves and cross hatching. The padding is cotton batting. 870 x 660 mm.

Hand stitched, cotton, appliquéd, quilt in a flower pattern on a plain background. Colours are shades of green, apricot and browns. This quilt was known as a 'Bride's Quilt'. Padding is thought to be layers of white fabric raised almost like a wadding. The backing is cotton material. 2470 x 2020 mm.

A 'foot' quilt, "copri piedi" used on the bed. Pink satin top and blue satin backing. The pink top is hand embroidered in a trellis pattern in shadow stitch and within each section there are hand embroidered sprigs of flowers in silk threads. The whole top is elaborately quilted. The silk cord binding is twisted into four decorative loops at each corner. There is a thick padding of cotton grown locally in Sicily.
1260 x 650mm
Wholecloth quilt made of deep cherry red satin with a cotton backing of a lighter red colour. The padding is wool. The quilting pattern comprises twelve squares, each approximately 350mm with a four leaf pattern in each. The border is straight and wavy parallel lines.
2000 x 1820mm

Patchwork quilt with alternate squares of green and fawn cotton headcloth. Various Australian wild flowers are embroidered in coloured threads in the green squares. In the fawn squares there is a stylised flower and leaf pattern outlined in embroidery. The border, front and back is green headcloth. The backing is printed cotton with a floral design. There is some padding.
1610 x 1610mm

Rose pink satin wholecloth quilt with lighter pink cotton backing. Hand quilting forms large diamond pattern in the centre with a border of parallel lines.
2000 x 1800mm