Quilt No.977NGA - National Gallery of Australia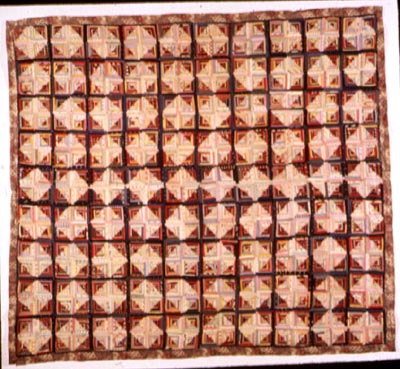 Owner:
National Gallery of Australia
Description:
" A wide range of cotton fabrics have been used to make this quilt in the traditional log cabin style. The strips of the log cabin are joined by rows being hand sewn onto a small square backing fabric, each square of strips has then been hand sewn together to form the quilt. The work is backed with a sateen printed fabric decorated with paisley design. A strip of the lining trims the edge of the front face of the quilt. The lining is attached with machine stitching. There are numerous tacking stitches that remain in the front face of the quilt. There are approx 9000 pieces in the quilt...
History:
"Sarah Monument (Australia 1862-1952) made this quilt between c.1910 and c.1928. Sarah's daughter, Mary Baker, put on the backing in about 1932. All the material for the quilt was made from scraps obtained from Chadwick's drapery store in Stawell, Victoria. The quilt remained in the possession of the Monument family until it was purchased by the National Gallery of Australia in 1985." [NGA]
Related Quilts:

The top is machine pieced patches of used clothing. The backing is large pieces of dress materials and either end patches similar to the top. The padding is a chaff bag or similar with patches of worn, matted children's jumpers sewn directly on to it.
1400 x 1150mm

Double sided patchwork quilt/rug constructed from squares machined together in strips and then the strips joined. The squares average about 27cms. The materials are mainly woollens, fleck tweed, school jumpers, gren check, and chenille and all are from used clothing.
1800 x 1170mm

Quilt consisting of 30 blocks 360 x 360mm each (5 x 6). Each block consists of squares and rectangles arranged diagonally and edged with triangles. Each block is made from 2 or 3 different cotton materials, different colours but mainly pastels. It has not been quilted but tied with pink wool with 5 ties per block. Machine sewn with a folded and machine stitched edge. Padding appears to be coarse open weave cotton. The backing is printed flannelette.
2210 x 1850mm

Quilt of alternate green and fawn squares (100mm) in knitted fabric, originally swatches of sample fabrics. Padding is a piece of old blanket. Backing is fawn flannelette, and the quilt is finished with a flannelette ruffle.
1423 x 1124mm

Patchwork quilt made from squares and rectangles of pink, blue and white fabric set with a frame of pink and white print around a centre rectangle made of 4 pink triangles. Four corner squares of blue and white stripes, Many squares are pieced from smaller scraps. The Material is a crepe type, possibly used for underwear. Handsewn and machined. Backing is made from cotton scraps, possibly lawn or similar. Padding is flanellete or similar. Edges are bound in a striped material. Quilt shows signs of wear.
620mm x 520mm

Repeat block in wedding ring pattern. All cottons with cream background and mainly pale mauve and green dressmaking prints in wedding rings. Green border and cream calico backing. The padding is cotton. 1800 x 210mm.