Quilt No.977NGA - National Gallery of Australia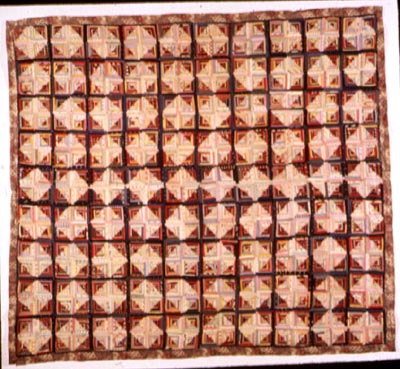 Owner:
National Gallery of Australia
Description:
" A wide range of cotton fabrics have been used to make this quilt in the traditional log cabin style. The strips of the log cabin are joined by rows being hand sewn onto a small square backing fabric, each square of strips has then been hand sewn together to form the quilt. The work is backed with a sateen printed fabric decorated with paisley design. A strip of the lining trims the edge of the front face of the quilt. The lining is attached with machine stitching. There are numerous tacking stitches that remain in the front face of the quilt. There are approx 9000 pieces in the quilt...
History:
"Sarah Monument (Australia 1862-1952) made this quilt between c.1910 and c.1928. Sarah's daughter, Mary Baker, put on the backing in about 1932. All the material for the quilt was made from scraps obtained from Chadwick's drapery store in Stawell, Victoria. The quilt remained in the possession of the Monument family until it was purchased by the National Gallery of Australia in 1985." [NGA]
Related Quilts:

Log cabin patchwork pieces (2) with each block approximately 120 x 120mm. They are diagonally divided into light and dark side. Materials are mainly silks including silk velvets. Each block is stitched on to a backing square, pieces of old blanket, woollens, cottons, many very worn. There is no other backing.
Quilt is hand pieced.
1000 x 1000mm

Cotton quilt made in the USA. The pattern is 'Double Irish Chain'. It is machine pieced and hand quilted. The backing is calico and the padding is cotton,
2134 x 2134mm

The quilt on longer exists, just the label, but the quilt was squares of flannelette shirt material, velvets and woollen pieces. The backing was calico. The label was sewn to the backing and it reads: 'Red Cross Killarney Manitoba'. It is embroidered in red and is on a white piece of sheeting.

Log Cabin quilt made from a variety of cottons and silks. There is no padding and the backing is calico bags. 1500 x 1250 mm.

Patchwork quilt made of pieced blocks in the 'Shoofly' pattern, in white cotton and a red, white and blue geometric cotton print. Alternate squares are in the print. The border is made of same size squares in the print. No padding. The backing is a sheet. Hand sewn.
1829 x 1829mm

Hand sewn hexagons over paper templates in a pattern known as 'Grandmother's Flower Garden'. Materials are printed dress cottons, patterned and plain, mainly in pinks, blues and browns. The border and backing is grey linen and is machine stitched on. There is no padding. 2060 x 1579 mm.