Quilt No.985VD - Virginia DeFriest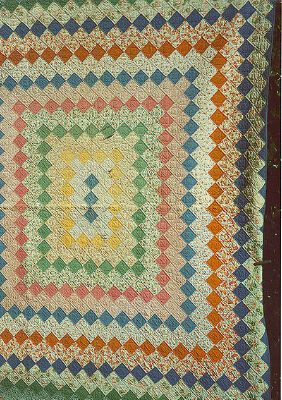 Description:
One of a pair for twin beds. Frame quilt entirely in rectangles of squares radiating from small central rectangle. Alternating rows of plain and patterned cottons. All squares are on edge. Padding is cotton and backing is plain white muslin. 2220 x 1540 mm.
History:
The maker is unknown but it is thought the quilts were made in Arkansas USA. They were owned by Mr. and Mrs. Homer DeFriest and now by their daughter-in-law. Both quilts are still used and each is kept at the foot of the twin bed in the owner's home.
Story:
The quilts were given to the present owner and her husband in 1955 and went with them to the various countries in which James Ellis DeFriest worked: Kenya, Sierra Leone, New Zealand, Ghana and Australia.
Related Quilts:

Frame quilt of dress cottons, including some glazed cottons. The centre is 4 triangles pieced to make a rectangle. This is surrounded by a plain border, a border of triangles, plain border, triangles border, plain border, border of triangles pieced to form squares, square and triangle border, then rows of squares. The outer border is of glazed floral chintz with a brown background. The backing is cream linen pieced lengthways in 3 sections. There is no padding. It is quilted all over in a large clamshell pattern. The top is covered with netting.
2615 x 2280mm

Patchwork quilt, reversible, with log cabin blocks on one side, with central red square in each block. Colours predominantly light greys, browns and pastels, and dark grey and blue. Reverse side is made of squares constructed from 2 triangles, in black, patterned pastels, pale blue and dark red. There is a black border along 2 edges on this side. It is quilted.
2058 x 1829mm

Crazy patchwork quilt with pieces made from cottons, rayons, silks and taffetas. Each piece is stuffed with kapok and machine sewn to a backing then a wholecloth floral cotton backing has been added.
920 x 164o mms

Quilt top of cottons including shirting materials constructed in kaleidoscope pattern with star border. Hand pieced over papers, some papers remain at edges. There is no padding and no backing.
2440 x 1720mm

Double sided square quilt mainly in cottons. Side 1 has been made in 4 squares each consisting of different sized strips and rectangles. With side 2 there appears to have been 2 stages as if the quilt was extended perhaps to match side 1. It is also squares, rectangles and strips. Sparsley machine quilted. There is no binding but side 2 has been turned over to side 1 and stitched by machine.
1525 x 1525mm

Double sided machine sewn patchwork quilt made from clothing scraps, wool blends, corduroy, velvets. Patterns include checks and tartans and there are many plain colours. Shapes are mainly rectangles and squares.
1524 x 1372mm