Quilt No.989TL - Thelma Lithgow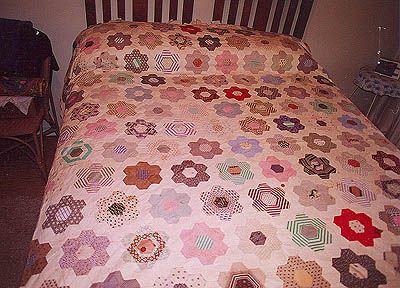 Description:
Repeat block quilt top based on hexagons, each 350 mm diameter. Six hexagons and a centre one make a 'flower' and these are set in rows against a plain calico background. Patterned cotton fabrics are used for the hexagons, small prints, fine stripes and tiny flowers. As it is a quilt top only, there is no lining or padding. 2100 x 1800 mm
History:
The quilt top was made by Margaret Clucas in 1882 on the ship 'Potosi' travelling from the Isle of Man to Australia. It was then owned by her daughter, Mona Harvey (born Clucas) and then her grand-daughter Thelma Muriel Mona Lithgow born 1909.
Story:
"Margaret Clucas nee Lewin, born Isle of Man 1834, married John Clucas and migrated to Australia via England, travelling on the cargo passenger ship the 'Potosi' 1882. While travelling on the 'Potosi' Margaret made the quilt top but it was never backed. John and Margaret Clucas were both school teachers and were quickly registered in their profession on arrival in St. Australia, Constantly moving around in difficult conditions occupied all their spare time. Hence the quilt was never completed. The hexagon papers were old letters but they have disintegrated over time." [Yvonne Daniel]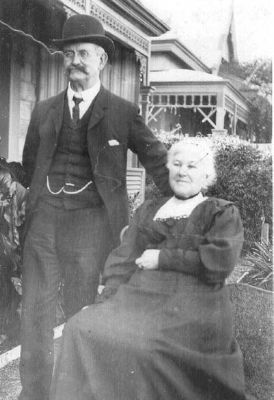 Related Quilts:

Single bed quilt made up entirely of hexagons in 'Granny's Flower Garden' pattern. The rosettes are made up of 8 hexagons and a central one. Native flower prints, including wattle, on a white background. Plain hexagons in white, yellow and blue form a scalloped border. Hexagons are hand stitched and the 2 layers are quilted in running stitch. The backing is a pieced sheet.
2400 x 1500mm

Patchwork quilt made from rectangles of samples of men's woollen suitings, in greys and blues and some browns. The rectangles were machine sewn together and then sewn in rows or strips. Originally the quilt had a rabbit skin backing, removed due to deterioration. No padding. Machine sewn.
1550 x 1420mm

Hexagon quilt made from dressmaking scraps, nearly all woollen. The hexagons measure 150mm. It is hand stitched.
1170 x 1100mm

" This is an unfinished section/piece of crazy quilting. Ribbons divide the piece horizontally into three sections; between these are bands of pastel fabrics and embroidery in the crazy quilt tradition. The fabrics and threads employed are very luxurious: laces, satin ribbons and silk velvets. The embroidery is very fine, employing a wide variety of stitches and threads. This patchwork piece is padded with cotton wadding and backed with tarlatan." [NGA] 1170 x 1020mm

Suffolk Puff quilt with puffs mainly in patterned cotton pieces saved from 60 years of household sewing. Puffs are formed into rosettes and the holes are on the top making a decorative feature. It is hand sewn.
2700 x 2400mm.

Patchwork quilt made from rectangles of mostly woollen fabrics sewn in strips and then stitched together. Fabrics left over from dressmaking projects. Machine stitched. Colours mainly green, purple, blue, pink, pastels, in plain, checks and spots. No padding or quilting. Lining is an old bedspread.
2200 x 1440mm