Quilt No.843AG - Annette Gero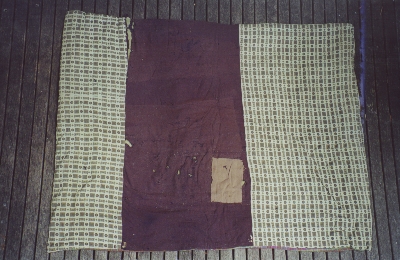 Description:
Utilitarian quilt made from large pieces of wool, flannel and cotton. Machine construction and the padding is wool.
1570 x 152Omm
History:
This is one of two utilitarian quilts made by Daphne and Olive Gibson at Thowgla, near Corryong, Victoria in the late 1920s. It is now in the collection of Annette Gero.
Story:
Daphne and Olive Gibson were neices of Mary Annie Whitehead. The descendants of these families still live in the Corryong district today.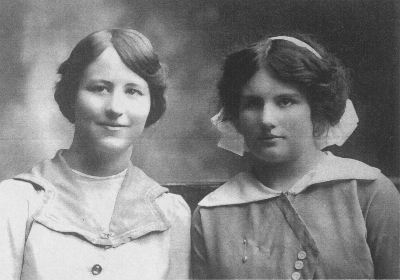 Related Quilts:

This 'Quilt' is made from an army great coat from the second world war. The seams have been unpicked and pieced together by machine zig-zagging the flat edges (with Singer treadle sewing machine). The pocket slits are turned back and seamed rather than being pared off. The outside edges are turned over and blanket stitched in red. It does not have a backing.
1620 x 1180mm

Cotton quilt in pattern commonly known as "Double Wedding Ring'. Probably an American McCall's pattern. Hand stitched, florals, checks and plain pieces. The backing is pink cotton. Scalloped edge.
2300 x 1880mm

Patchwork quilt made from hexagons 63mm across in a variety of cotton prints and plains. The bright coloured patches came from children's clothes and dressmaking scraps. The 'set included a large cot cover, a pillow cover and a circular stool cover. No padding. Backing of unbleached calico. Hand sewn.
2300 x 1840mm

Quilt made from dressmaking materials in a design probably made up by the maker but resembling 'Courthouse Steps'. The outer border of each block is mitred. Originally it was reversible but during restoration the back was brought to the front, doubling the size of the quilt. The padding is old woollen materials. The backing is a new piece of floral material. It is now machine quilted.
1830 x 1220mm

Yellow and white cotton Durham quilt with centre panel of patchwork blocks in counterchange design called 'Plate'. There is a wide yellow border and square white corner blocks. It is padded and there is a yellow backing. It is quilted all over following the patchwork pattern in the centre panel. Feather pattern border.
2120 x 1720mm

This quilt consists of rows of pieced blocks approximately 280mm square sewn directly on to a foundation square. The design is really a version of 'log cabin' set on the diagonal. The backing squares are made from flour bags including a number stamped in blue ink "The Defiance Milling Company��..Toowoomba NET 3 lbs". Another is stamped in green ink "Parsons Rolled Oats". Two short sides and one long side of the quilt are bound in apricot coloured cotton.
1960 x 1700mm