Quilt No.843AG - Annette Gero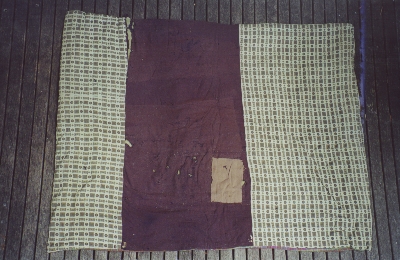 Description:
Utilitarian quilt made from large pieces of wool, flannel and cotton. Machine construction and the padding is wool.
1570 x 152Omm
History:
This is one of two utilitarian quilts made by Daphne and Olive Gibson at Thowgla, near Corryong, Victoria in the late 1920s. It is now in the collection of Annette Gero.
Story:
Daphne and Olive Gibson were neices of Mary Annie Whitehead. The descendants of these families still live in the Corryong district today.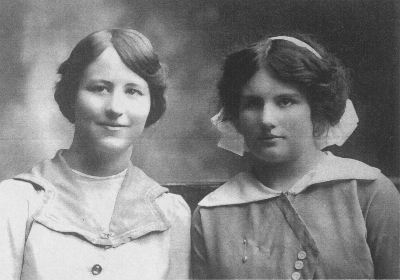 Related Quilts:

The top is machine pieced patches of used clothing. The backing is large pieces of dress materials and either end patches similar to the top. The padding is a chaff bag or similar with patches of worn, matted children's jumpers sewn directly on to it.
1400 x 1150mm

Pieced quilt featuring log cabin and tumbling block patterns. It is handsewn and has some appliqued flowers.Materials are mainly velvet with a small amount of cotton. There is no padding and the backing is cotton flannelette.
1525 x 1220mm

Patchwork quilt made of 1 inch hand paper pieced hexagonal patches (English technique), with plain and floral patterned blue fabrics in clusters at regular intervals throughout the taupe coloured patches. Centre of quilt has a cluster or 'flower' of 4 rings of patches, the centre group embroidered in blue satin stitch: 'MW 1938'. Border consists of 3 rows of medium, light and dark blue hexagons. No padding. Backing is of blue cotton sateen.
2185 x 1372mm

Hand pieced patchwork quilt with 10 diamonds consisting of hexagons with white and black rows as edging. Materials include furnishing and dress materials and a type of linen. It is not quilted or tied. The backing is a small floral print in flannelette.
2180 x 1830mm

Quilt in pattern known as 'double weeding ring'. All cotton, using old prints, plaids, checks and solid colours, with plain blues and red squares at the intersections of the circles. White background. Hand pieced. Padding is Hobbs Heirloom: cotton 80%, polyester 20%. Backing is cream quilted cotton. 2500 x 2100 mm.

Hexagon quilt made from dressmaking scraps from one neice. The quilt top only is complete and a few papers are still attached.
2250 x 2000mm