Adelaide City Council Archives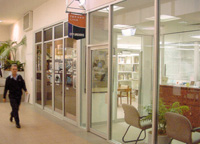 Purpose built local government archival facility complete with environmentally controlled repositories, public search room and conservation laboratory.
Address:
Off 56 Waymouth Street, Adelaide, SA
Hours:
Monday - Friday 9:00am - 5:00pm
Collection:
The archives contain 5,000 records. In the Civic Ccollection there are 3,000 items including 400 artworks. The Oral History Collection has 110 taped interviews and transcripts.