University of South Australia Art Museum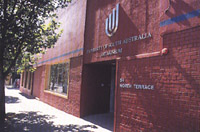 The University of South Australia Art Museum is one of a national group of university museums and galleries. The Art Museum presents original exhibitions of mostly contemporary art, craft and design, including architecture, as well as presenting touring exhibitions and conducting acquisition, publication and forum programs. The Museum works to enrich the University's educational contribution to its own student and academic communities and to strengthen the University's community role in fostering the arts.
Address:
54 North Terrace, Adelaide, SA
Hours:
Tuesday - Friday 11:00am - 5:00pm; Saturday 2:00pm - 5:00pm. From 27th February - 14th March the Museum will be open daily from 10:00am - 5:00pm.
Facilities:
Wheelchair access, University of SA library, lecture theatre, Student Union Shop and Cafeteria
Collection:
The University of South Australia Art Collection is is developed and managed through the Art Museum, which also conducts a program in which artworks are commissioned for public sites around the University's campuses. The collection has been established for research and display purposes and includes works by South Australian artists, Aboriginal bark paintings and South Australian ceramics - from folk to studio pottery The Art Museum identifies, encourages and welcomes development of the collection through benefactions to the University.
Items
Sculpture
Songs of Australia Volume 3 - At Home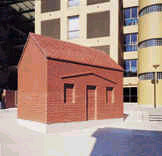 Description:
At Home' is a major public sculptural work in Adelaide's city centre, commissioned by the University of South Australia for its City West Campus. 'At Home' clothed in brick and life size, acknowledges other pre-university institutions: little school houses, and suburban homes.
Ceramic
Bosleyware Centenary Plaque 'Old Gum Tree' 1936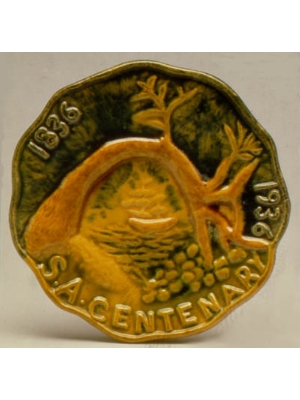 Creator:
Bosleyware, Adelaide
Description:
This plaque was made to commemorate South Australia's centenary in 1936. The plaque depicts 'The Old Gum tree' or the 'Proclamation Tree' at Glenelg. In the background is the 'Buffalo' anchored at Holdfast Bay.
Item Id Number:
1998.2.87
Rare polychrome glazing, from the R.J. Lyons collection of South Australian ceramics.