Signal Point River Murray Interpretive Centre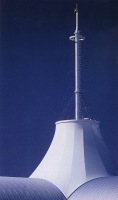 Signal Point River Murray Interpretive Centre is housed in modern, purpose-built quarters in the river front historic precinct of Goolwa. The centre is built in the site of the original Murray Mouth Navigational signal Mast/Station. Displays at the centre celebrate the life and times of the "Murray River Trade", and draws attention to environmental and ecological challenges to the inland river system today.
Hours:
9am-5pm (everyday except Christmas day and good Friday)
Admission:
Adults $5.50, concession $4.40, children $2.75, Family $13.20 school, social and coach tour rates available on inquiry
Facilities:
Wheelchair access to main visitor areas and toilet, gift shop, research of Centre's archives by appointment, cafe, public phone, guides available for groups, walking tours arranged
Collection:
Static displays of local and Riverine History, paddle steamer models, inter-active displays of environmental problems, theatre, geomorphological displays on the origins of the river system. Files, photographs, reference library of Murray History and problems.
Items
Map
River Walk
Description:
Tactile map of Murray River in South Australia, Surrounded by Historical and Industrial aspects of Geographic areas. Includes inter-active display on effects of irrigation.
Murray River, South Australia
A Room
Goolwa Room
Description:
Celebrates the history and development of Goolwa and the "River Trade". Includes section of original signal mast, murals, view of the wharf and Murray from the "Goolwa Room" identifies aspects of early history of the area.
Murray River, South Australia
Educational Game
River Maze
Description:
Designed for children to identify and study various ecological threats to the Murray Darling. A "walk-thru" game/maze where children accumulate points for correct identification of the challenge.
Murray River, South Australia
Interactive display
River of life
Description:
Interactive display allows users to release a quantity of water into a desk top display model, containing channels, Pide lines, lakes, irrigation areas ect - to demonstrate the many calls on river water and the effect on Murray Mouth.
Murray River, South Australia
Interactive display
Impact of irrigation on ground water and River Murray
Description:
Interactive display demonstrates the effect on the river life, wetlands and ground water deposits through irrigation.
Murray River, South Australia