Channel Historical and Folk Museum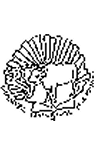 The Channel Historical and Folk Museum has displays of items, memorabilia and information relating to the history and lifestyle of the D'Entre casteaux channel area from Margate south to Gordon. The Museum is owned and managed by members of the D'Entre casteaux community and most of the items have been donated or loaned by past and present residents. The Museum is open to the public six days a week. There is a research library with books, a collection of photographs, maps and newspaper clippings relating to the district. The Association has special programs for school groups and community and tour groups are catered for.
Address:
2361 Channel Highway, Lower Snug, TAS
Hours:
10am-4pm daily - Closed Wednesday
Admission:
Adults $3, School Age Children 50c, Concession $2
Facilities:
Library, education program
Collection:
The collection consists of displays, exhibits and information on a unique collection from the Electrona Carbide Works, timber industry, fishing and scallop industry, agriculture activities, boat building and shipping in the channel, 1967 Bush Fires, school records and photos, sporting records and photos, social memorabilia, an early style kitchen, bedroom bathroom and washhouse. The collection is well set out in sections, uncluttered and well labelled.
Items
Carbide Tester
Carbide Tester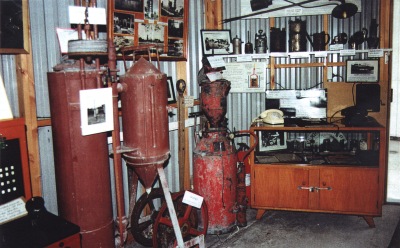 Description:
Apparatus used for preliminary testing of carbide on the furnace floor. Manufactured at the works - date unknown. Crudely constructed - incorporates a bicycle wheel. Dimensions (mm): h x w x l = 2850 x 900 x 800. One of the few remaining pieces of equipment from the Carbide works. Cleverly assembled from unrelated materials. Scrap pipe, bicycle wheel, lead weights. Made appox. 1960.
Log Winch
Forest Devil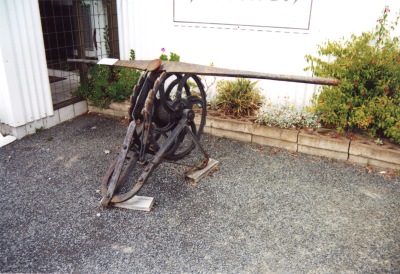 Description:
Ratchet - Type Winch operated by two people. Wire rope wound on to the drum to extract logs from the bush. Date and place of manufacture unknown. Of cast and wrought iron. Dimensions (mm): h x w x l = 840 x 2380 x 1060. Typical of equipment used in the small scale timber milling industry.
Archive
Carbide works, Archive
Description:
A photographic record of the installations and activities at the Australian Commonwealth Carbide Co. at Electrona. Consists of approx. 25 black and white photos and share certificates, newspaper clippings and advertising and information booklets. Dimensions (mm): h x w x l = 360 x 250 x 16. The works at Electrona was the only carbide works in the southern hemisphere. It was set up in May, 1918 as one of the first consumers of cheap hydro-electric power and was the only large industrial activity in the channel district, employing approx. 200 people at any one time.
Photographs
Photographic Collection
Description:
Approx. 200 photos documenting architecture, sport, shipping, schools, forestry and people in the period 1890 to 1970. Contained in 22 albums ; Dimensions (mm): h x w x l = 360 x 250 x 16. Documents activities and architecture of the channel districts. Many buildings in the district were destroyed in the 1967 bushfires.
Chair
Chair
Description:
Crudely made chair : unusual in that the two halves, [front and back legs, back and seat support] are split (sawn) from a single piece of horizontal scub. Actual date of manufacture unknown c. 1890's. Dimensions (mm): h x w x l = 895 x 510 x 500. Handmade at Strahan, taken to Bruny Island in the 1890's. Example of an ingenious use of an otherwise useless and intractable Tasmanian timber.
Snug, Hobart, Tasmania, Strahan, Bruny Island