Sound Preservation Association of Tasmania Inc.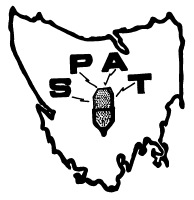 Archive - storing old sound recordings - especially Tasmania voices and sounds - local radio programs from the past. Restoration and displaying all types of old sound equipment from Edison cylinder to modern day. Restoring and repairing old equipment - Graymos radios ect, for the general public. Recording from all types of records - tapes to cassette, C.D. and minidisc. Locating hard to find music for the public. Guided tours to school groups and local seniors groups and aged homes.
Address:
19 Cambridge Road, Bellerive, TAS
Hours:
Monday, Wednesday, Thursday and Friday. 11am to 3pm
Collection:
Large numbers of old valve radios, mechanical sound devices, reel to reel tape recorders - wire recorders, 10/12 inch 78 RPM discs, 10/12 inch LP's and stereo discs, cassettes, tapes, Edison cylinders - local and overseas, photographs - local identities and places. Books on sound and film. Also large collection of locally recorded oral history items.
Items
Assorted Radio Receivers
Various, AWA, HMV, Phillips, Astor, Tasma
Creator:
Melbourne, Sydney and Brisbane all had Radio Manufacturing plants
Description:
A collection of some of the radios locally made in Australia for medium wave AM reception. Mainly 3 - 6 valves with inbuilt dynamic or per magnetic speakers - usually required outside aerial wire (50 - 100 feet) and a good earth connection.
Melbourne, Sydney, Brisbane,
Pyrox wire recorder
Magnetic wire recorder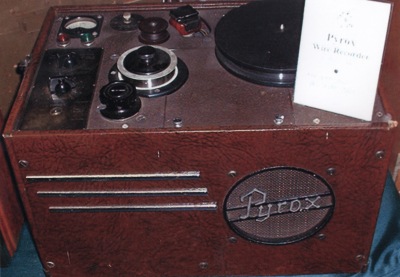 Description:
First recording equipment available in Australia following World War Two for broadcasting stations around Australia. American design made under licence in Australia by Pyrox (Aust) Part of the AWA group.
Medium wave receiver
Atwater Kent Model 40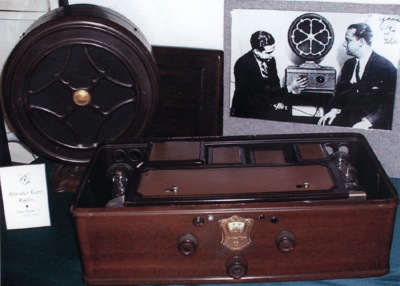 Description:
Typical medium wave radio receiver with separate speaker imported to Australia from Early 1920's. Operated on 110 Volt AC mains in operating condition. Frequency range 550 KC to 1600 KC's (Broadcast band AM)
Spring driven tape recorder
C.E.B. Tape Recorder
Creator:
Commonwealth Electronics Plc.
Description:
Locally designed and produced tape recorder - using a garrard dualspring gramophone motor to drive tape mechanism: designed by Bill Nicholas, Hobart Manager and Director of Commonwealth Electronics: He won the contract for use at the 1956 Melbourne Olympic Games - about 150 were made.
Head Office, Baulkham Hills, NSW, Tasmania, Hobart
World's 1st automatic record changer
Waterworth Prototype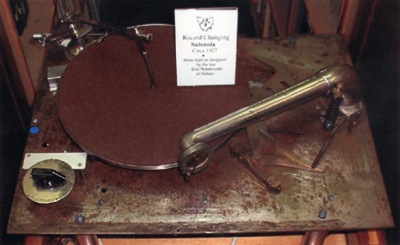 Description:
Eric Waterworth invented the worlds first automatic record, a particular boon at the time when records lasted only a few minutes, and he and his father took it Sydney and came to an agreement with Home Recreations of Sydney to incorporate it into their gramophone, the Salonola. The Salonola was demonstrated it at the 1927 Sydney Show, unfortunately, Home Recreations went into liquidation and the Salonola was never marketed. Nothing daunted, in 1928 Eric Waterworth and his father journeyed to London. They eventually sold the patents outright to a new company, the Symphony Gramophone and Radio Co. Ltd. Waterworth was lucky to have successfully sold his invention, as the following year the depression practically eliminated the gramophone industry world-wide. His invention did not come on the market and the patents lapsed. However, following the second world war, a number of English companies manufactured record-changing gramophones and almost all of them used the stepped centre spindle which was a central feature of Waterworth's design.