Tasmanian Transport Museum Society Inc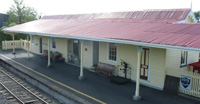 The Museum aims to preserve representative items of transport interest and has developed into an important community asset in the Glenorchy Municipality. The museum caters for the cultural and educational needs of those who live in the area as well as those who find pleasure in Tasmanian transport heritage: those enthusiasts for whom past forms of transport and associated memorabilia have a particular fascination. The museum operates train rides on the first and third Sunday of each month.
Address:
Anfield Street, Glenorchy, TAS
Hours:
Saturday - Sunday and Public Holidays 1:00pm - 5:00pm.
Admission:
Adult $5.00, Child $2.50 on non train operating days; Adult $6.00, Child $3.00 on train operating days.
Collection:
The collection includes steam locomotives; rail cars and rolling stock; reconstructed railway station, signal box and turntable; Hobart and Launceston trams; trolley buses and motor vehicles; stationary steam and traction engines; relics, documents and photographs; transport related books and videotapes.
Items
Rail Passenger Coach
Six wheeled passenger coach - LWR No. AB1
Creator:
Brown, Marshalls & Co.
Description:
This is certainly the oldest surviving railway carriage used in Tasmania. Originally built for use on the Launceston and Western railway as 5'-3" gauge. Converted to 3'-6" gauge by TGR in 1885. Used as a TGR camp car up until 1972.
Item Id Number:
TTM 149: AB1
Steam locomotive
Two cylinder steam locomotive - TGR No. M5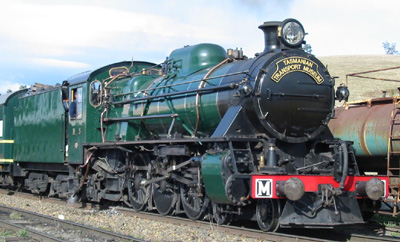 Creator:
Robert Stevenson & Hawthorn U.K.
Description:
One of the class of ten locomotives remaining in service until 1971. Still in fully operational condition and used on mainline excursions.
Item Id Number:
TTM143:M5
Trolley bus
Trolley Bus - B.U.T. Type - No. MTT 235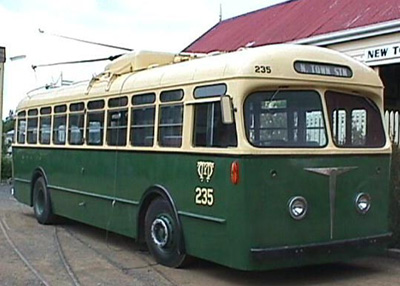 Creator:
British United Traclion - U.K. - chassis; Cily Body works, Hobart
Description:
This vehicle operated the last electrically powered public transport service in Tasmania, when, on Sunday 24/11/1968 it operated on the Huon Road route for the last time. One of thirty six of this class. Still in fully operational condition.
Item Id Number:
TTM313:MTT 235
Hobart, Huon Road, Tasmania
Tram - single deck
Single deck bogie tram - MTT No. 141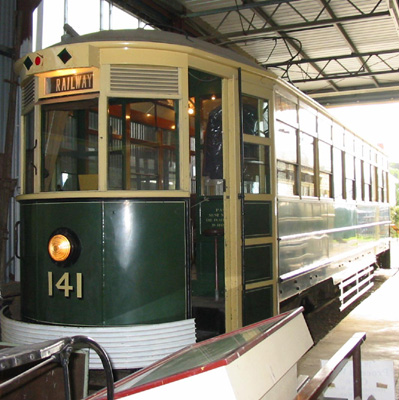 Creator:
Bodywork by MTT Hobart
Description:
This tram is in fully operational condition.
Item Id Number:
TTM311:MTT141
Diesel-electric locomotive
Locomotive - T.G.R. No. X1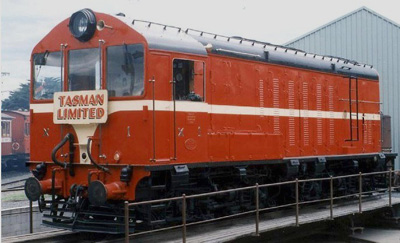 Creator:
English Electric Co. U.K.
Description:
This was the first diesel-electric locomotive used on main line duties in Australia. It suffered major damage at a serious derailment in 1951 and was subsequently rebuilt in the Launceston Workshop of TGR.
Item Id Number:
TTM132:X1