Launceston Tramway Museum Society
A restoration of historic trams that were built between 1900 and 1940. Part of the original workshop is being used for the restoration, with the new Museum built in keeping with the industrial relevance of the area.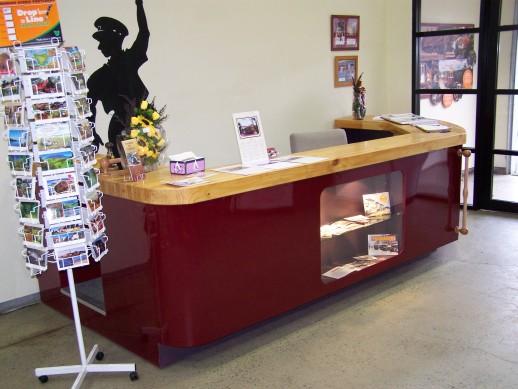 Address:
Inveresk Precinct, Launceston TAS 7250, Australia
Hours:
Every Saturday 9am - 4.00pm
Tram operates 10am - 3.30pm most Saturdays
Admission:
Museum admission --------- Adults $3.00, Children Free. Tram Rides only ---------- Adults $2.00, Children $1.00. Museum & Tram Rides ---- Adults $5.00, Children $1.00. Schools and groups catered for contact the society by phone or email for prices.
Facilities:
Museum open to the public and a guided tour of displays is available upon request.
Museum Workshop tours with a member by arrangement.
The museum is on one level enabling disabled person access. Tram rides for disabled persons possible, but considered on an individual basis.
Nearby is the Don River Railway's Launceston facility and the Queen Victoria Museum.
Parking is available in the Inveresk Precinct car park and it is only 10 minutes walk to city centre.

Collection:
Double bogie tram 29 restored and running.
Trams 1 & 26 under different stages of restoration.
Tram 8 coachwork restored and on display awaiting mechanical equipment.
Tram 23 stabilised as found and used as a display gallery.
Video display of tram recoveries and restoration.
Collection of tram memorabilia and photos relating to the social history of the area.