Australasian Golf Museum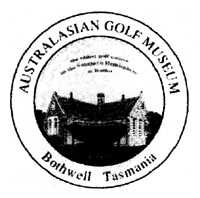 The museum is a feature attraction of the small township of Bothwell, Tasmania, also home to the oldest golf course in the Southern Hemisphere. Founded in 1996 by former Australian champion golfer, Peter Toogood, the museum is housed in a sandstone heritage building, formerly the State Primary School. It displays items of national and international significance. Prominent Australians who have given their support and donations to the museum include Greg Norman, Peter Thomson, Lindy Goggin, Norman Von Nida, the Toogood and Nettlefold families and Ian Baker-Finch, who donated his 1991 British Open-winning putter and sand iron.
Address:
Market Place, Bothwell, TAS
Hours:
Daily 10:00am - 4:00pm. Winter months 11:00am - 3:00pm.
Facilities:
Wheelchair access, shop, reference library, brochure available.
Collection:
The museum specialises in Australasian memorabilia.
Items
Golf club
Track iron
Creator:
Forgan & Son, Scotland
Description:
Hickory shaft, steel head, smooth face.
Item Id Number:
s1999.228
Used by golfers to hit balls from ruts made by cart wheels.
Golf clubs
Putter and sand-iron
Description:
Putter: steel shafted, iron head (silver), soft rubber grip used by Ian Baker-Finch. Sand-iron: steel shafted, iron head, rubber grip.
Item Id Number:
21999 625/s1999.624
Presented to the museum by Ian Baker-Finch who used the clubs to win the British Open in 1991.
Display case of Golf balls
Collection of 12 balls
Description:
Collection of antique golf balls (new) made from original moulds. Range from 1899 - 1939 contained in presentation diplay case.
Replica - cheque (large)
Winners cheque
Creator:
ANZ Australian Masters
Description:
Actual cheque presented to Graham Marsh, winner of the 1987 Australian Masters Golf Tournament at Huntingdale Golf Club.
Golf club
Driver
Description:
Hickory shafted, wooden head (spliced) driver.
Item Id Number:
s1999.610
Used by AH Toogood in the 1895 British Open at St Andrews, Scotland.