Ouyen Local History Resource Centre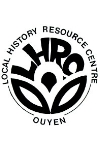 The Local History Resource Centre was established in 1984 as part of the Victoria 150th Celebrations. The collection is housed in the former Ouyen Courthouse building which it shares with the Mallee Genealogical Society. The centre houses material collected from the southern part of the Rural City Council area. The photographic collection is a special feature, comprising approximately 2,500 black and white photographs. The aim of the centre is to make local history information accessible to everyone.
Facilities:
Toilets, wheelchair access, baby change room, car and bus parking, picnic area, refreshments, sales outlet, guided tours, research facilities, information brochure, room for hire, historical book sales, reference library
Collection:
Photographs, microfilm of the early Ouyen newspapers from 1911, including some early copies from Underbool and Murrayville' oral history recordings; maps; books; district records and ephemera are also included.