Woady Yaloak Historical Society Inc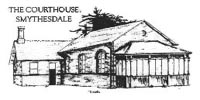 The society aims to encourage the study of Australian history, especially of the history of the district around the Woady Yaloak Creek; to promote the compilation and presentation of authentic records relating to the Woady Yaloak district; and
to undertake and encourage historical research.
Address:
The Court House, Brooke Street, Smythesdale, VIC
Hours:
The Court House is open to the public on the last Sunday of each month 1.00pm - 5.00pm. Access to collection can also be arranged at other times by contacting the society.
Admission:
Access to the collection is free, society membership fee of $20 per year.
Facilities:
Access to collection, monthly meetings of society, workshops, research assistance, guest speakers, newsletters and other publications.
Collection:
The collection contains books, pamphlets, periodicals, manuscripts, microfilms, microfiches, card indexes, photographs, newspaper cuttings, maps, computer records and family histories, often "in progress". There are also some original mining records and other documents in the collection.