Quirindi and District Historical Society Inc.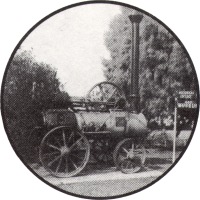 Historical Cottage built in 1887. Corrugated iron and log sheds (shearing Shed Style). Extensive collections maintained, restored, conserved by volunteers. Special exhibitions arranged in line with community events such as a wool display for prime stock day and a "1901" theme for the centenary of federation.
Address:
44 Station Street, Quirindi, NSW
Facilities:
wheelchair access, toilet, tea making facilities, meeting room, sale of local history books, archives, microfilm local newspapers, microfiche NSW Births Deaths and Marriages register
Collection:
Local rural community archival religions and phonographs. Historical cottage with turn of the century display. i.e. Kitchen with old fuel stove, meat safes, butter churning, china, lace, linen, silver teapots. Antique farming machinery, office equipment, sulkies harness etc.
Items
Steam Engine
Creator:
Clayton and Shuttleworth of Lincoln England
Description:
Portable steam engine used in willow tree. It was used on "Beefwood" station solely to drive the sheep shearing machinery and was originally purchased in Sydney.
Brick Cottage
Historical Cottage and Museum
Creator:
Mr Benjamin Icon
Description:
Locally made sand-stock brick cottage and adjoining shop built in 1877 as a residence and a cake shop. The land was originally a crown grant, allotted to Benjamin Icon Publican on 5th May 1856. A wrought iron veranda (originally part of the local commercial hotel) has been added.
Bell
The Warrah Bell
Description:
First used by the Australian Agriculture company at its Port Stephens settlement in 1825 primarily to assemble its convicts for the days work. In 1833 the AA Company moved to the Liverpool plains and established the "Warrah" and "C-oonoo C-oonoo" stations. The Bell went to "Warrah" and was rung every day for 139 years.
Clothing
Wedding Dress
Description:
Elaborate hand sewn wedding dress with train worn by Josephine Dorothy Morgan. There is also a framed Photograph of The Wedding Gown.
"Woodstock" Property at Gaspard
Aboriginal Artefacts
Maclean-Phillips Collection
Description:
Extensive collection of Aboriginal Artefacts, Artworks, Photographs, Ceremonial items, Stones, Carvings, Documents