Art Gallery of New South Wales
Established in 1874, the Art Gallery of New South Wales is one of Australia's oldest and largest art museums. The gallery's collection includes Australian and Aboriginal, European, Asian contemporary and photography sections. In addition to the permanent collections, the gallery has a varied exhibition program that changes throughout the year. Lectures, films, performances and special events accompany most exhibitions.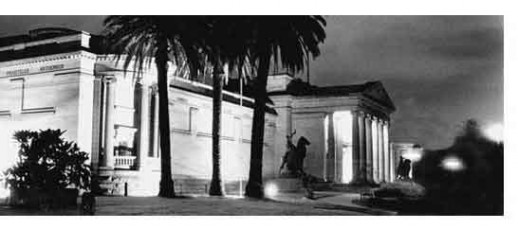 Address:
Art Gallery Road, The Domain, Sydney, NSW
Hours:
Daily 10:00am - 5:00pm; Wednesdays 10:00 am - 9:00pm. Closed Good Friday & Christmas Day.
Admission:
Free. Charges apply for some exhibitions.
Facilities:
Major exhibitions of local and international artists is a feature of the gallery's visitor program, complemented by films, lectures and performances
Wheelchair access
Guided tours
Cafe/restaurant
Kiosk (opposite)
Volunteer Program
Public Programs
Education Programs
Reference Library
Prints and drawings study room
Venue Hire
Shop
Collection:
The Art Gallery of New South Wales has three main curatorial departments: Australian Art, Asian Art and Western (international) Art
The Australian collection provides a comprehensive overview of Australian art in all media from early colonial times to the present. The old courts on the ground floor display a strong representation of some of the most loved Australian painters and sculptors of the 19th century, including national icons such as Roberts, McCubbin and Streeton, while on the other side of the entrance court you can find key works of Australian modernism.
The Aboriginal collection can be found on lower level 3 in the Yiribana gallery as well as having a presence in the 20th century Australian wing.
The Asian collection is displayed on the ground floor in the spectacular, new Asian Gallery built in 2003 and in a more traditional gallery directly below it. The main strengths of the collection lie in Chinese and Japanese art from ancient times to the present. It also traces the spread of Buddhism from India across central Asia to China and Japan and into Southeast Asia.
The Western collection begins in the old courts. Thanks largely to the generosity of James Fairfax we are able to present a small but impressive collection of European art from the 16th century in Italy and the Netherlands through to the 19th century, where there is a very strong holding of British Victorian painting and sculpture collected from the earliest days of the foundation of the Gallery. On level 2 we display modern British masters and European modernists. Contemporary art, including Australian art, is also displayed on this level and is considered part of the Western collection. There is a very strong holding of international and Australian art after 1965. The Photography collection and Twentieth century works on paper are also shown in smaller galleries on this floor.