The Queensland Women's Historical Association Inc
'Miegunyah' (1886) is a colonial home built when the local tradition was at its most ornate and opulent. It functions as a House Museum and headquarters of the Queensland Women's Historical Association. It is set in a tranquil leafy garden in historic Bowen Hills. The Association's comprehensive collection of personal and household items not only interprets this lifestyle but also enables regular changing exhibitions on wide ranging subjects. The building itself encapsules the late 19th century middle class Brisbane lifestyle. Within its collection it holds major items of memorabilia from Sir George and Lady Bowen, Sir Samuel and Lady Griffith, and the Gilbert Elliott family, among other innumerable items. As an historical association it provides a monthly lecture programme, seminars and workshops using "Miegunyah' as the venue, while maintaining a regular research and publication programme. Its comprehensive historical files are readily accessible to researchers.
Address:
'Miegunyah', 35 Jordan Terrace, Bowen Hills, QLD
Hours:
10.30am-3pm Wed, 10.30am-4pm Sat and Sun, groups by appointment on any day.
Admission:
Adults $4, Children (4 - 14 years) $1.00, school student groups $1.50
Facilities:
Wheelchair access, toilets, refreshments, trading table, guided tours, available for hire, historical research files
Collection:
Material on local history, early Queensland families, historical building and numerous other subjects. Photograph collection covering Queensland 1860-1980. Historic costume collection (male & female), textiles covering 1860-1945. Furniture and portraits of historic significance.
Items
Costumes
Ladies' Costumes; Children's Clothing; Christening Robe circa 1890s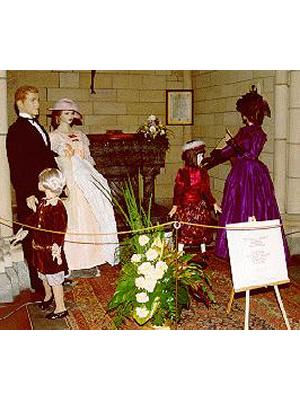 Description:
Representative of Christening party circa 1890s.
Item Id Number:
94 C014-1
Portrait
Portrait of Hon Gilbert Eliott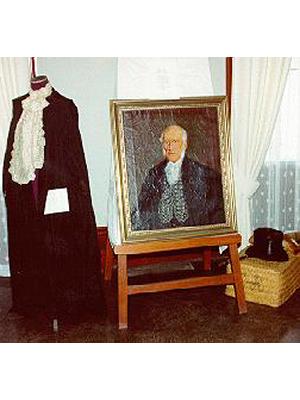 Description:
Portrait of Hon Gilbert Eliott in the robe he wore as Speaker of first Queensland Parliament, plus original blade. Black robe with lace jabot.
Domestic items
Milk, Butter Cooler; Butter Churn; Milk Bucket; Stool; Apron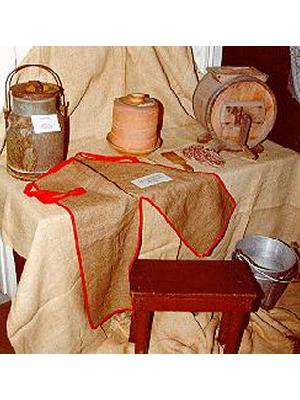 Description:
Items used by pioneer women in gathering and production of food.
Item Id Number:
95C002-25
Building
Miegunyah Pioneer Women's Memorial House Museum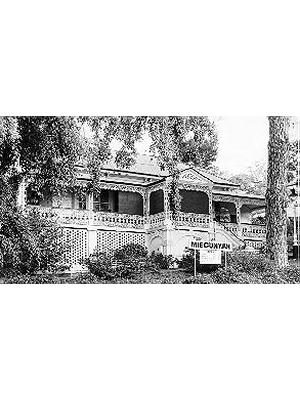 Creator:
Built by William Perry 1886
Description:
Gracious Victorian home of colonial Queensland design; ornate lace on wide verandahs; furnished in Victorian period.