Qantas Founders Outback Museum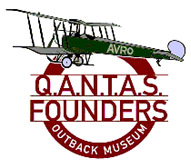 Stage two of Qantas Founders Outback Museum was opened on 31 March 2002, as part of the Queensland Heritage Trails Network project. The new building resembles an aircraft hanger and houses the state-of-the-art museum, a café, shop and resource centre. Interactive multimedia, working displays and historical artefacts tell the history of QANTAS, giving visitors insight into the challenges overcome by the fledgling airline, the impact the new airline had on outback life and an appreciation for the people who expanded the business from the airline's first plane, an open cockpit Avro 504K, to the current fleet of Boeing 747-400 jumbos.
The museum is intended to be a rich learning resource that is educational, informative and fun. Designed to appeal to all age groups, the Museum's stated mission is to 'honour the founders' and to 'inspire youth'. The Museum's public programs and facilities invite community members to share in the Qantas story and to participate in challenges that stimulate initiative, encourage creativity, build self esteem and encourage cooperation.
Address:
Longreach Airport, Sir Hudson Fysh Drive, Longreach, QLD
Hours:
Daily 9:00am - 5:00pm. Closed Christmas Day.
Admission:
Adult $15.00, Concession $12:00, Student $8:00, Family $30:00
Facilities:
Wheelchair access, Kiosk, Giftshop, Brochures, Regional Information, Tours on request.
Collection:
Artefacts relating to the history of QANTAS and life in the outback, including advertising ephemera and art, promotional material, philatelic covers commemorating historic flights, long-service gifts to employees, QANTAS uniforms, share documents, passenger tickets from early flights, photographs, pilot and engineer licences, aircraft parts, Flying Doctor radio transceivers and aircraft models.
The resource centre collection consists of over 200 books, videos and other educational materials relating to the history of QANTAS and the history of Australian and International aviation.
Items
Poster
Qantas Empire Airways advertising poster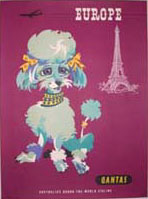 Description:
This is one of a series of posters commissioned by Qantas Empire Airways to advertise their flights to destinations around the world.
Clock
Long-service award - clock/calendar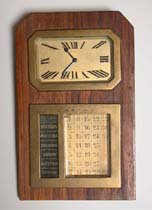 Description:
This clock was awarded to QANTAS pilot Captain PH Moody in 1927 for 3 year's service.
Aircraft Engine and propeller
B.E.2 E. engine and propeller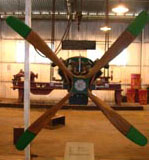 Creator:
Lancaster Motor Co.
Description:
Aircraft engine from B.E.2E. 90 hp, normal rpm 1500, RAF (Royal Armament Factory) air cooled, weight 440 pounds, ratio 2:1. The B.E.2E was originally imported from England to Australia by the Perdriau Rubber Company and was the first aeroplane to fly between Sydney and Brisbane in a day. The engine was purchased as a spare and received in Longreach in August 1923. It was fitted into the B.E.2E on July 2, 1924 and remained in that aircraft until it was scrapped on 3/12/1925
Birmingham, United Kingdom, Longreach, Queensland
Ticket
QANTAS Passenger ticket no. 790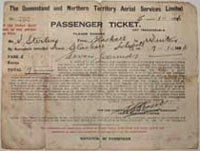 Description:
Original QANTAS ticket issued to Victor Stirling to fly with QANTAS from Blackall to Winton in Queensland on January 7 1926. The ticket cost 7 pounds.
Item Id Number:
QFH-217-0
Winton, Blackall, Queensland
Aeroplane
QANTAS Avro 504K
Creator:
AV. Roe and Company
Description:
Replica of the first plane owned by Qantas. The Avro was always fitted with a rotary engine but was unreliable. It had a cruising speed of 65 mph (105kph). It carried 2 passengers and 1 crew and was used mainly for air taxi flights, joy rides and shares sales tours in Western Queensland during 1921-22.
Manchester, England, Longreach, Queensland