Cooktown Maritime Museum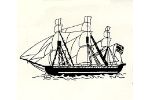 The Cooktown Museum is a museum of maritime history with a focus on Cape York/Torres Strait Islands and the surrounding regions. The museum's collection is a tribute to seafaring men who brought civilisation to the Far North. The pioneering history, the gold rush, early cyclones, early discovery, shipping and Chinese migration are just some of the themes depicted in the museum's collection.
Address:
Cnr Walker and Helen Streets, Cooktown, QLD
Hours:
Monday - Sunday 8:30am - 5:30pm from June - October. Flexible hours during off season.
Admission:
Adult $5.50, Group Booking $4.00, Children (5-14) $2.00.
Facilities:
Wheelchair access, Souvenir Shop, Guided Tours, Booklets, Kiosk, Information Centre, Booking Office, Toilet Facilities.
Collection:
The collection consists of over 300 photographs and newspaper cuttings; 600 marine specimens including a shell collection; 11 model ships; 5 anchors; 2 gold skips; 8 canoes and other maritime memorabilia.
Items
Crockery and cutlery
Description:
Crockery and cutlery from the yacht on which the constitution was developed.
Date:
1900 (approximately)
Fishing buoy
Description:
Japanese long liner fishing buoy and radio beacon.
Date:
1975 (approximately)
Stuffed Crocodile
Original Dundee Crocodile
Creator:
A taxidermist in Cairns
Description:
Crocodile used to make rubber copies used in the movie Crocodile Dundee.
Model boat
Model of Steam Yacht Greta, Dufken, MV Cora, Onedin Line
Creator:
JD Clark of Townsville
Description:
Battery driven model of steamship.
Canoes, Anchors
Creator:
New Guinea natives
Description:
Fifteen metre red cedar canoe from New Guinea.
Date:
1960 (approximately)