Cooktown Powder Magazine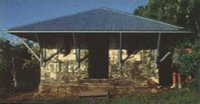 The Cooktown Powder Magazine was built in 1873-76 to store gunpowder destined for use on the Palmer goldfields. It stands at the far end of what was once the busy port of Cooktown well away from habitation. It has been in a ruinous state for many years but is now protected by a new roof and cyclone bracing.
Address:
The Esplanade, Cooktown, QLD
Hours:
Exterior only, restricted access.