Mareeba Heritage Centre Inc.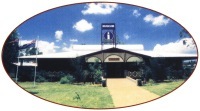 The Museum is a heritage style building with a large veranda, the building is situated within a lovely park setting. The Museum presents a comprehensive series of displays, including an Aboriginal interpretive display, early pioneers and settlers hut, and a valuable collection of historical memorabilia. An early fire cart, a turn of the century telephone exchange and rail ambulance are but a few of the interesting exhibits on display. A new display on Mount Mulligan reflects the history on the 1921 mining disaster. Also a purpose built blacksmith shop at the rear of the Museum now shows cases a large collection of blacksmith tools and memorabilia. A section of the Museum is given over to displays of current agriculture in the Mareeba Shire, covering tobacco, sugar, coffee, tea tree oil ect. A small shop within the Museum, can offer a range of saleable items from historical books, souvenirs, T-shirts, cold drinks and snacks.
Address:
345 Byrnes Street, Centenary Park, Mareeba, QLD
Admission:
$4.40 Adult, $2.20 Pensioners and Children, $11.00 Family
Facilities:
Wheelchair access, information centre, brochures available, souvenir shop
Collection:
We are classed as a small Museum with collectable items, ranging from out door farming machinery to medical books and logging tools, photographs, static display.
Items
Rail Ambulance
Description:
Originally it was a London Bus, Atherton Dairy Co brought it and transported cream in it. Then in 1942, the Mareeba hospital board purchased it and converted it to a rail ambulance used extensively to facilitate the mines. It last ran in 1983.
High Frequency Kit
Description:
A portable suitcase containing various glass instruments. Designed for different areas of the body. A transformer produces a high frequency electrodes and violet light. Claiming to cure any ailment
Fire Cart
Description:
Wooden pull along with spoked wheels
Original Mareeba fire brigade cart
Blacksmith Display
Description:
Containing blacksmith tools including bellows, tongs and hammers.
Truck
Ford Truck
Description:
1934 truck used for carrying fuel in the war years, with original Neptune Fuel signage.