Carbethon Folk Museum and Pioneer Village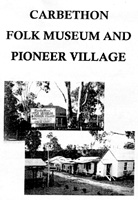 Built in the 1890's Carbethon was moved from Haden to Crow's Nest and opened as a folk museum in 1979. Historic house 'Carbethon' is the centrepiece, featuring local history and agricultural items and situated in a pioneer village of fifteen buildings. Buildings in the complex include a working printery, wireless shop, butcher's shop, blacksmith's shop, machinery shed, photographer's studio, church, slab huts, and a one teacher replica school. Other displays include Aboriginal artefacts, a native beehive and an Aboriginal honey tree.
Address:
New England Highway, Crows Nest, QLD
Hours:
Thursday and Sunday 1pm - 5pm, Public holidays 10am - 5pm. Groups and other times can be arranged between 10am - 5pm.
Admission:
Adults $4, Concessions and pensioners $3, Children 12 years and under $1
Facilities:
Reference research brochures, guided tours, education programs, catering for coach groups.
Collection:
Items and history of lifestyle from early settlement (1870's) of the area to present time.
Items
Domestic
Fly trap, mechanical
Description:
Wooden box with revolving drum and clockwork mechanism. 23 x 25 x15
Has additional advertising sheet from WA Noble and Sinnamon (Chemists). Donors - Roberts family, Crows Nest
Domestic
Kangaroo butter churn
Creator:
H. H. Hind, Tamworth and Sydney
Description:
40 turns per minute' butter churn
Two long screws to hold treacle tim (instead of glass jar)
Toy
Roller skates
Description:
Wooden wheels and wooden skates (no straps)
Toy ised on verandah of Aueensland 'Carbethon' by six Just brothers.
Household
3 Cornered washstand
Description:
Three cornered piece of furniture, turned legs, hole for basin in top.
Used by second settlers in Haden district in the early 1900s
Household
Whatnot
Description:
Pience of furniture for corner - made from cotton reels and No.8 wire. 4 shelves.
Wooden cotton reels carved for decortion on top shelf. Used for bric-a-brac.