Laidley District Historical Village Inc
Situated on the site of the original camping ground of the teamsters on the old Drayton/Toowoomba Road is the Laidley Pioneer Village. It was the first Village Complex in Queensland and for the last 25 years has entertained thousands of visitors and instructed thousands of school children in the ways of our early pioneers. The result of hard work by the Laidley District Historical Society (Inc) it now proudly boasts an authentic pioneer slab cottage; 100 year old school (complete with all requisites); blacksmith's shop; dairy; country store and post office; police cells; the original Shire chambers; museum; 2 large machinery sheds; buggy shed and butcher's shop.
Address:
Drayton Street, Laidley, QLD
Hours:
2-4pm Sun or groups by appointment
Facilities:
Limited wheelchair access, toilets, group tours by appointment, brochure available.
Collection:
3,000 items. Collection of early pioneer memorabilia from Laidley District.
Items
Tractor
Linn Tractor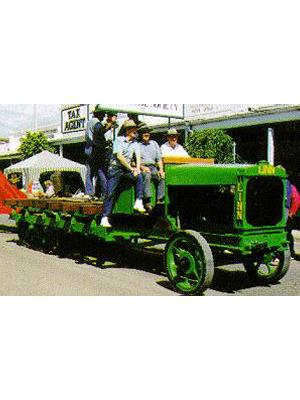 Description:
1926 model half track truck tractor used extensively on Mount Mistake during and after World War II. One of only three held in Australia.