Texas Historical Society Incorporated Museum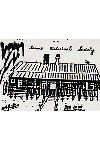 Texas has a population of some 900 and has all necessities for shopping, health and sport. "Whyalla" feedlot, the largest in the southern hemisphere, is chief employer. Glenlyon and Coolmunda Dam and Dumaresq river provide fishing and boating venues. Numerous native birds for bird watching.
Address:
40 Flemming Street, Texas, QLD
Hours:
11am-3.30pm Sat, or by appointment
Admission:
Adults $2, Children $1, Family $5
Facilities:
Wheelchair access to grounds only, toilets, tours by appointment, books on local area, tobacco pavilion.
Collection:
All photos in albums cover early Texas, mining village, tobacco industry, social and sporting life of the area.
Items
Post Office Pigeon Holes
Description:
The Pigeon holes were used at Sihoenspun Post Office which opened in 1903. A person from the mine office originally staffed the PO which closed 5th May 1969.
Church Organ
Packard Organ
Description:
The organ was manufactured by Packard has a mirror and carved timber. It was in the church (mission hall) which was built in 1915, when the building was purchased for the Museum complex.
Home made wash tubs
Creator:
Italian Tobacco Grower
Description:
Tubs were made by a tobacco grown, from cement, for his wife it consists of 2 tubs and a scrubbing board. Had been used as a horse trough prior to being donated to Texas Museum. Obviously not made to be moved as an end loader was needed to deliver to Museum.