Gladstone Maritime History Society Inc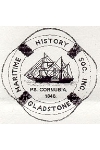 The Museum was formed to preserve the regions maritime and local history. The museum's aim is to provide an education centre for school children to learn about our local history, and also for visiting tourists.
Address:
6 Short Street, Gladstone, QLD
Hours:
Sundays 1pm-5pm (to be extended soon)
Admission:
Donation Adults $2, Children Free.
Facilities:
900 Book library, Museum tours take 1 hour, Night tours by appointment.
Collection:
1 500 photographs, 900 books, plus estimated 2000 items (displayed)
Items
Photographs and Display
History of 3 masted schooner Director II
Creator:
6 year society research project.
Description:
Crew went on to start small ships division of US Army
Date:
1940 18th of October
Chair from SA colonial navy ship 'Projector'
Swivel chair with sprung cushion.
Creator:
1884 Armstrong Ship Yards
Description:
HMAS Projector, first ship in the Australian Navy. Ship sunk at Heron Island 1944 as breakwater.
Cannon Ball (restored)
Cannon Ball
Description:
Restored 4 " solid iron cannon ball, from HMS Porpoise 1803, Mathew Flinders. Recovered from wreck reef. Central Queensland.
Relief Half Ship Model 1906 Britannia
Hand Carved by Cape Horner
Description:
Carved on board ship.
Chrysler-Benz Outboard
Outboard Motor
Description:
First outboard with exhaust through "leg'.