Quilt No.1022AT - Alison Tunney
Description:
Quilt in mauve, pale blue and white squares, with wide borders of floral and off white. The quilting is a centre medallion with leaves on the border, and cross hatched over all. The padding is cotton batting, and the backing is plain white cotton. 2180 x 1900 mm.
History:
Quilt was made in early 1900's in Hexham, Northumberland, England. It was then owned by Alison Tunney's (present owner) grandparents in Hexham, England. It is not used.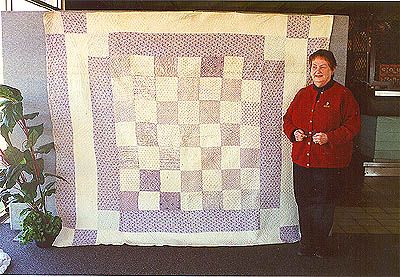 Related Quilts:

Pieced hexagons, English paper method. Large hexagons form the centre with a border of smaller hexagons. The fabrics are all cotton in a wide range of colours and patterns. There is no padding. The backing is cotton, large white floral design on dark blue. The hexagons are hand pieced and the edges machined.
2480 x 1420 mm

Patchwork quilt made from squares and rectangles of pink, blue and white fabric set with a frame of pink and white print around a centre rectangle made of 4 pink triangles. Four corner squares of blue and white stripes, Many squares are pieced from smaller scraps. The Material is a crepe type, possibly used for underwear. Handsewn and machined. Backing is made from cotton scraps, possibly lawn or similar. Padding is flanellete or similar. Edges are bound in a striped material. Quilt shows signs of wear.
620mm x 520mm

Small quilt made from pieces of heavy weight wooollen coat material cut into strips and machined together. It is reversible. Each side is made from different materials but in similar colours of aqua, blue, green and beige. The 2 layers are quilted together with a few machined lines of straight stitching. It has a folded and machine stitched edge. There is no padding.
950 x 790mm

Cotton patchwork cover constructed from hand sewn hexagons (65mm) in cotton and linen furnishing materials. The curved edges are bound with blue and cream printed striped cotton. The backing material is not visible.
941 x 261mm

Crazy patchwork quilt in silks and velvets. Centre circle of embroidered flowers and outer border of diamonds in tunbling block pattern. Most pieces have embroidered flowers and all joins are embroidered in fancy stitches. The owner's mother had a pink silk quilted backing and a thick edge cord added to the quilt by Rocke's of Collins street Melbourne c.1960
1620 x 1595mm

Double sided quilt. One side is frame with borders of wool rectangles mainly offcuts of men's suiting from tailors' shops. The other side is mainly flannelette in stripes and patterns similar to pyjama material. The padding is pieced patches of worn jumpers that were too matted to be unpicked. Machine construction.
1700 x 1490mm