Quilt No.1022AT - Alison Tunney
Description:
Quilt in mauve, pale blue and white squares, with wide borders of floral and off white. The quilting is a centre medallion with leaves on the border, and cross hatched over all. The padding is cotton batting, and the backing is plain white cotton. 2180 x 1900 mm.
History:
Quilt was made in early 1900's in Hexham, Northumberland, England. It was then owned by Alison Tunney's (present owner) grandparents in Hexham, England. It is not used.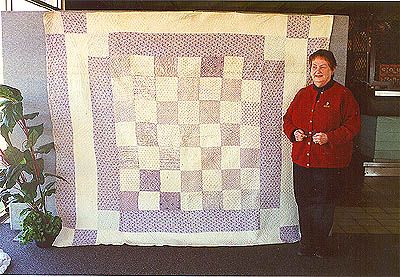 Related Quilts:

Patchwork quilt made for a child. All cotton with cotton padding. White blocks have embroidery depicting different nursery rhymes eg Mary, Mary, Quite Contrary ; Old Mother Goose. These blocks are separated by rectangular strips of teal cotton. The quilt is hand stitched and heavily quilted.
1677 x 1271mm

Patchwork quilt made from brightly coloured printed cotton fabrics in hexagon patches hand sewn together in rosettes, and stitched by machine onto a border of green moire taffeta. No padding. Backing is green cotton satin curtain lining. There is a matching pillow sham.
2591 x 2540mm

Hand pieced hexagon quilt or table cover with centre motif of hexagons within hexagons. The remainder of the quilt is mainly hexagon rosettes. The materials are silks and brocades and it is pieced over papers in the English tradition.
1710 x 1600mm

Quilt with alternate red and white diamonds in cotton, with wide border of white cotton and a white cotton crochet edging. All diamond patches and edging were joined to white border decorated with feather stitch. White border edged with zig-zag white feather stitch. Centre rectangle of white has 4 red petals edged with white feather stitch and 4 red diamonds each embroidered in white clockwise: '1898', 'R', 'L', 'K'. Diamonds edged with feather stitch. There is no padding and the backing is white cotton.
2420 x 1740mm

Patchwork quilt made from hexagon patches on one side, and squares and rectangles on the reverse. Cottons are used, mostly from dressmaking, in bright and light colours. The hexagons form an indented edge on all sides; on the back the rectangles have been cut at the edge to match the hexagon shapes. Hand sewn, the edge machine sewn.
No padding.
1551 x 1373mm

Grandmother's flower garden pattern. All cottons with plain centres to 'flowers' then row of prints and outer row of plains. One hexagon flower has been repaired. Scalloped edges bound with yellow. Hand quilting around the hexagons. The backing is cream cotton and the padding is thin cotton. 2140 x 1780mm.