Quilt No.223RA - Rozanne Andrew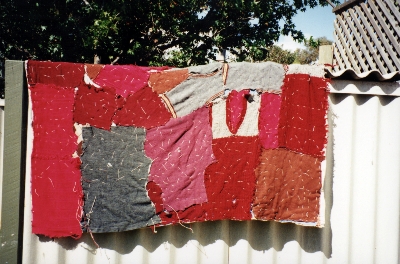 Description:
Quilt, single bed size, made from reused clothing roughly handstitched on to a backing of a wool/linen blanket type fabric in green, cream and brown stripes. Clothing is fronts and backs of old jumpers, vests etc as well as opened out sleeves in red, brown and grey. They are stitched together in several layers with long stitches. Another top may have been intended to cover the stitched down layers of clothing.
1500 x 1040mm
History:
Made by the owner's grandmother, Bertha Fechner, in Loxton, SA in the late 1940s. Owned by Rozanne Andrew.
Story:
"Further on from last correspondence regarding information on 3 quilts I own from my paternal grandmother. � This is information on grandmother's life. Name - Bertha Fechner & Philip Fechner
D.O.B 19/5/1888 D. 20/12/73 D.O.B 1/6/1893 D. 5/12/46
Lived all their married [lives] at Loxton, South Australia, a town on the River Murray.
Both people of German descent but born in Australia.
Both very frugal in their use of food and possessions. Always preserved all their fruit, killed own animals, grown most of their fruit and vegetables. Grandmother of course made own clothes and many quilts in her lifetime. Many traditions from Germany passed down and carried on through the generations including language. Being able to knit, crochet, sew, embroider an essential part of education. Strong church followers always.
� Grandfather was a blacksmith and wheelright. Grandmother did 'home duties".
[Letter from Rozanne Andrew 20.12.95]
Related Quilts:

This Adelaide Chronicle wildflower quilt has alternating squares of green and fawn headcloth embroidered with Australian wildflowers on the fawn squares and stylised floral motifs on the green squares. It is bordered and backed with the same green material. It is padded.
2350 x 1530mm

Scrap quilt made of vertical strips of rectangles alternating with narrow strips of pieced triangles. Colours are subdued, blues, pinks, red, browns and black, in small patterns and stripes. Fabrics are suiting, rayon, crepe, gaberdine, taffeta and blazer wool. The padding or middle layer is pieced from hessian and suiting fabric, knitted cotton. and khaki and brown twill (uniform material). The middle layer is then handsewn to the back.
1550 x 870mm

Quilt consisting of 30 blocks 360 x 360mm each (5 x 6). Each block consists of squares and rectangles arranged diagonally and edged with triangles. Each block is made from 2 or 3 different cotton materials, different colours but mainly pastels. It has not been quilted but tied with pink wool with 5 ties per block. Machine sewn with a folded and machine stitched edge. Padding appears to be coarse open weave cotton. The backing is printed flannelette.
2210 x 1850mm

Patchwork quilt made for a doll's bed or possibly as an infant's quilt. All cotton. The owner calls the pattern a variation of 'Bow Ties'. Hand sewn and quilted. This quilt is new.
534 x 382mm

Patchwork cot or pram quilt made of diamond patches in the Tumbling Block pattern. Patches are made from cotton, corduroy and velvet, with red, black, teal blue, green, brown and cream predominating. No padding. Backing is of green wool and the quilt is bound with dark red crushed velvet.
780 x 560mm

Patchwork quilt made from Suffolk Puffs in a mixture of bright and pastel prints and plains, mainly in cotton materials. Hand sewn. No padding or backing.
1630 x 1440mm